Satellite loop of Marie on Friday showing a nice eye as the storm holds Cat 4 strength. Imagery courtesy of NOAA/NESDIS.
Hurricane Marie is in the swell window on Firday for southerly exposures across California. The resulting swell should have enough west in it to show for many SoCal breaks.
GoPro has once again put a massive bounty on the raddest clip filmed with its trademark rough and tumble portable camera.
"Grab a HERO 9 BLACK Gopro and be a part of the 2020 GoPro Million Dollar Challenge Highlight Video. Send us your best video clips of epic travel adventures, insane action, family radness or anything awesome. Get in on the action, get creative, get paid"
The criteria are straightforward and submission is frictionless. If you have some raw footy that could take the cake make sure to submit
HERE
. Just remember, your footage has to be shot on the new
HERO 9 BLACK Gopro
.
The person wanted in connection of a
rape and attempted murder of a woman at the Venice Pier
has been taken into custody on Saturday, just 2 days after the "Community Alert" bulletin was made public.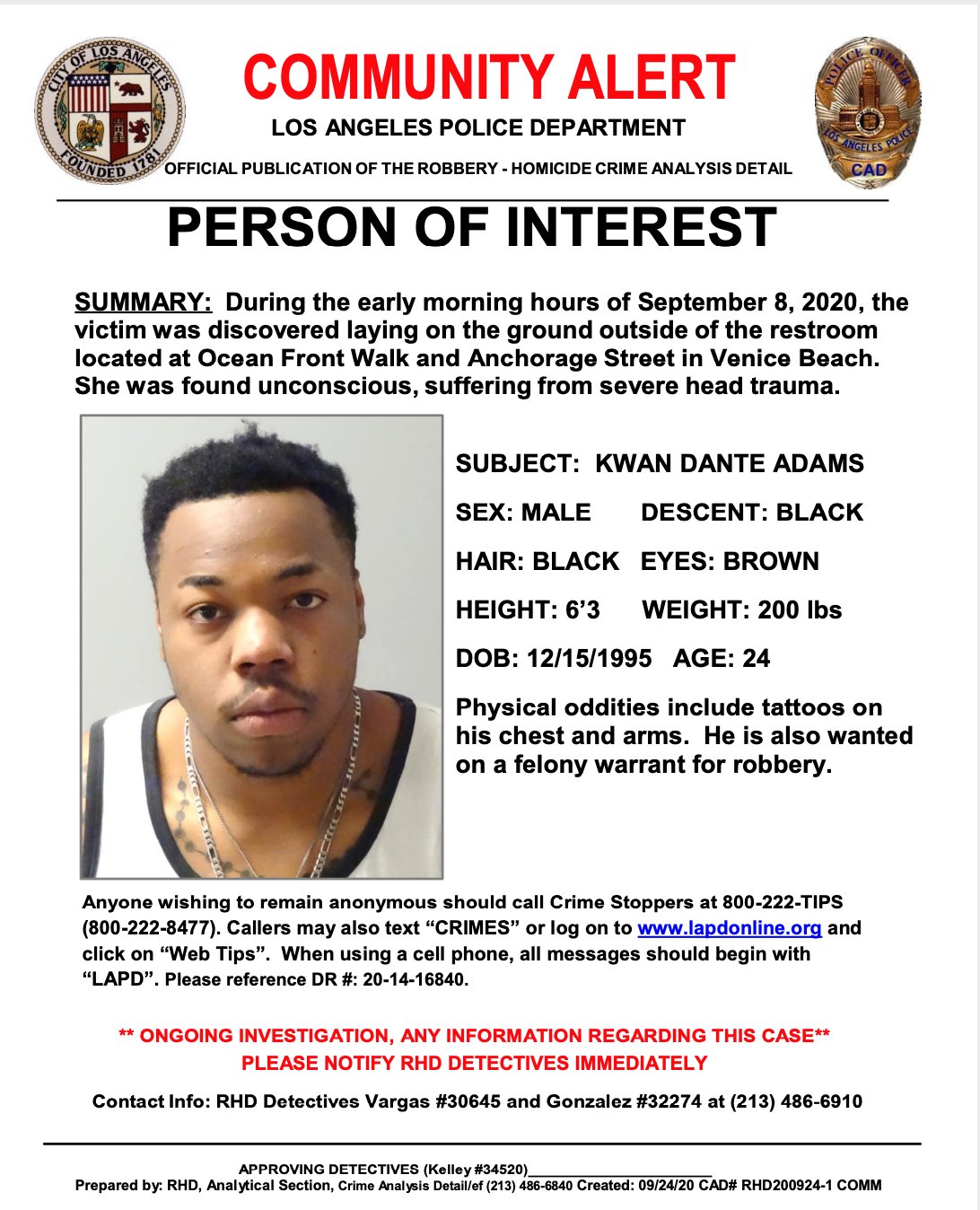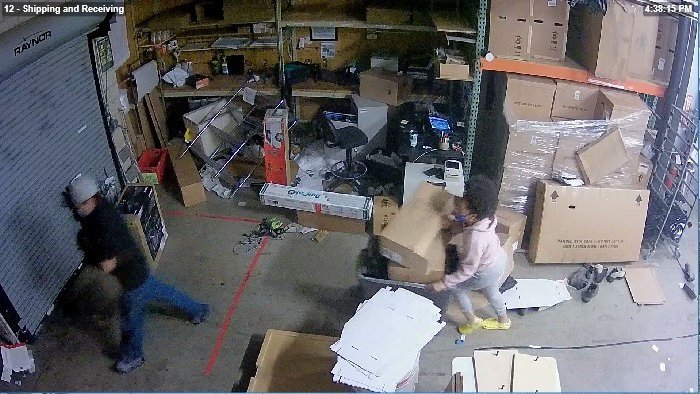 More looters have been arrested.
From a statement on the SMPD Facebook page:
"On Thursday September 17, 2020, officers from the Santa Monica Police Department served search warrants at two locations within the City of Los Angeles. The search warrants were related to looting activity during the civil unrest in Santa Monica on May 31, 2020. Officers monitored video footage from REI, located at 402 Santa Monica, and observed two individuals stealing items from the store. Officers were able to identify two subjects, Marques Miles and Misty Jones (both residents of Los Angeles) during the investigation. Officers obtained warrants to search the residences of both subjects and recovered approximately $2,500 worth of property stolen from REI. Both Milers and Jones were arrested and booked for Burglary (459 PC) and Burglary during State of Emergency (463 (a) PC). Bail was set at $50,000 each."
But it should not be forgotten, that the
Santa Monica Police Department allowed the looting to happen
, and the fact that the Santa Monica Police Chief and several city council members blatantly lied about what happened.
If you watched our
Instagram Stories
last weekend, you probally remember we had footage of a large dude unconscious laying on the Venice Boardwalk. Well, we found the video of what happened. According to the video shot by
Winning Circle84
, this rather large Vato was in a fight with his co-worker and got the knocked out with a knee to the face .
Two videos from
LOUDLABS NEWS
capturing the fight and shooting that happened around 1 a.m. Wednesday outside the Cabo Cantina. the second veideo shows the aftermath and police investigating.
"It was reported that about three suspects ran from a shooting scene next to the Cabo Cantina. One person was shot and transported to a local hospital by LAFD paramedics. The three suspects are believed to have left the scene on foot and possibly jumped into a red Jeep. No further information available at this time. LAPD is handling the investigation."
Investigators tracked down one suspect who was arrested the next day in the city of Norwalk, where officers served a search warrant and found the handgun believed to have been used in the shooting, police said.
Police are asking for the public's help finding the two other people involved in the fight.
Anyone with information or video footage of the incident is urged to call LAPD Detective Angel Gomez at 310-482-6370. Those who wish to remain anonymous can call Crime Stoppers at 1-800-222-847.
Bring your mask and join
yoniswell
this Saturday for their Coastal Cleanup + paddle out in celebration of Coastal Cleanup Month in support of
Heal The Bay
For more info and to RSVP:
CLICK HERE
Earlier this month
a woman was found seriously beaten and left for dead at the Venice Pier
, now the LAPD has put out this notice regarding that
Venice Pier rape
case: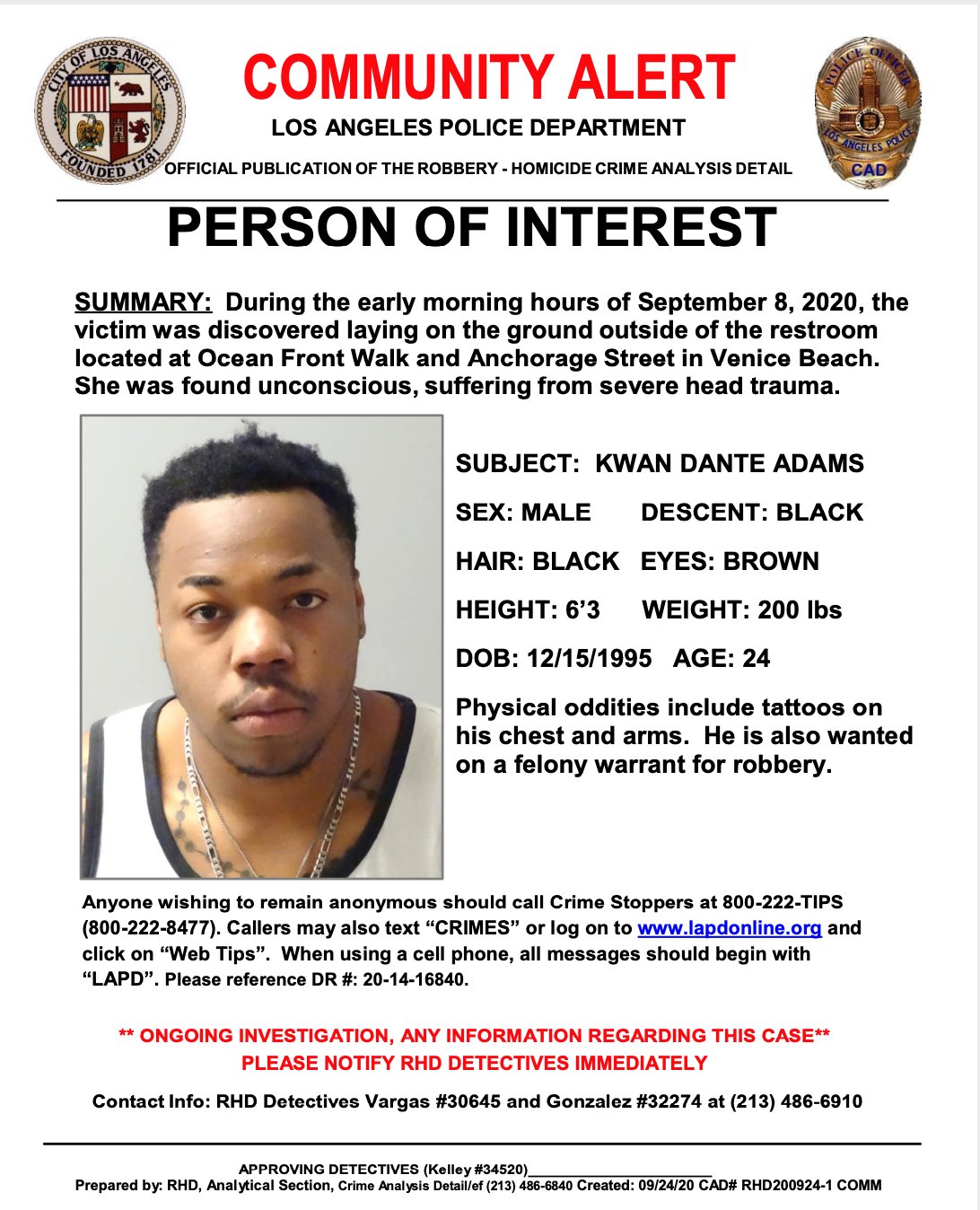 There's a tropical Storm entering the SoCal swell window and expected to strengthen slightly as it continues to move through it. Tropical storm Lowell is about 450 miles to the south-southwest of Southern Baja right now. The shorter-period south-southeast shifting south swell is expected to arrive by Thursday and potentially last into the upcoming weekend, but not expected to bump size all that much.
Allove Skateboard Foundation
is hosting their second event:
Nothin but love for the kids and community! 20 more brand new pair of Vans, 20 completes, tee's, best trick contest, and a whole lotta LOVE!! We're also going to have a special guest appearance by the
Powell-Peralta
team!!! To excited about this I'll see you all on the 26th at Lincoln Skatepark from 12-5pm!
Video of a fight on Venice Boardwalk this weekend has been uploaded to Twitter:
A few of the assailants faces are clearly visible. This is probably the most vulgar display of violence I've ever seen on the boardwalk. @venice311 @LAPDHQ @LAPDPacific Is there any info? I'm not seeing anything online. pic.twitter.com/f2xY0ZP9mB

— Abbot Kinney BL (@abbotkinneybl) September 20, 2020
More info will be posted if it becomes avaliable.
Just another night in Venice Beach, reports coming in of "a man with a gun", and then "shots fired".
@PDRScanner officially I think it is a code 4 now? We just picked up dinner from Mao's 10 minutes prior to this... energy is crazy tonight in Venice #shooting #venicebeach pic.twitter.com/PbRAAWgdi2

— Annie Anderson (@AnnmarieCloud) September 21, 2020
So far that's all the info we have.
Be a part of the solution! Come down Zuma this Sunday and help clean up our beach. Thank you to
Finn Murphy
,
Paula Murphy
, and
Rip Curl Malibu
for organizing this event! Come support our youth activists!
This is not related to the
Woman Found Beaten And Left For Dead At The Venice Pier
story we recently ran.
Jessica Renee Ankrom was last seen Monday, September 7th by the Venice Pier. See the flyer below for more details:
Here's an official and an "unofficial" update on the
Woman Found Beaten And Left For Dead At The Venice Pier
story we ran on Tuesday and that was seen on our
Instagram Story
.
First the official update, the Los Angeles Police Deptartment is calling this a sexual assualt. The victim was found laying on the ground outside of the restroom located on Ocean Front Walk and Anchorage Street in Venice Tuesday morning around 6:45 a.m.
LAPD said that the victim was suffering from severe head trauma and was naked from the waist down. The victim's wallet, purse, iPhone and vehicle have not been located. The missing vehicle is a gray 4-door 2011 Ford Escape with Arizona license plate CPL5138.
They release this Crime Notice asking for help locating the victim's vehicel.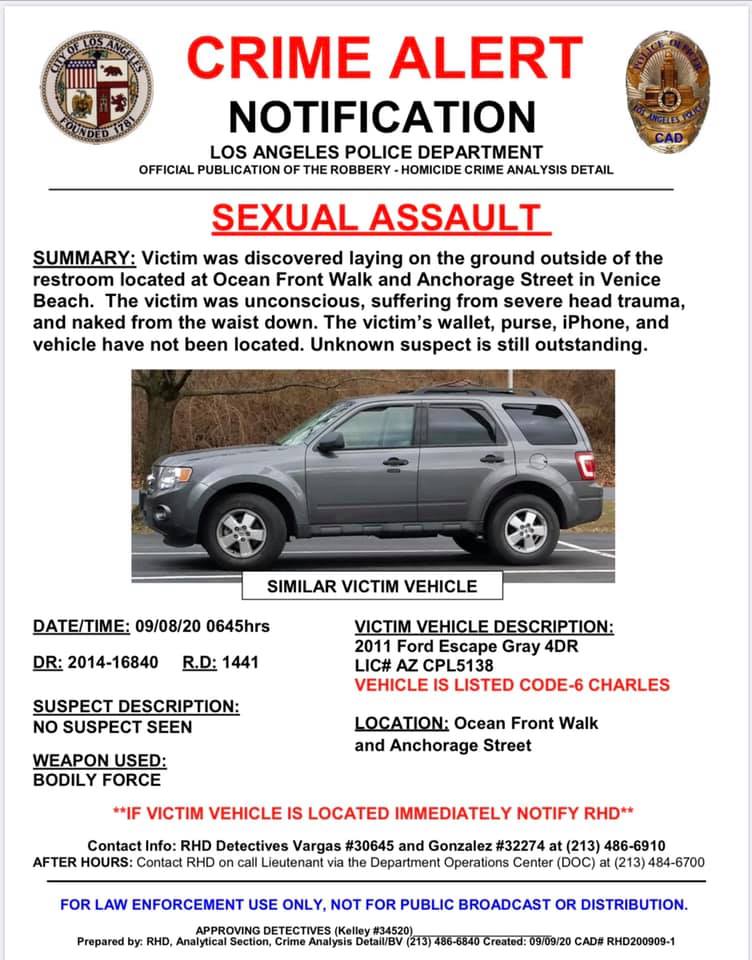 Now the "unofficial" update, we gathering some info from some of the locals:
The woman sexually assualted is said to be a 29 year old college student/graduate.
The attack may have started behind the Arbor store, and ended at the restrooms just south of pier, where she was further beaten, then dragged to the backside of the restrooms and left for dead.
Security camera footage from the local businesses captured some of the event and are being reviewed.
Photos and videos from
Pepperdine Graphic
:
A car chase that started in the valley ended in Malibu prompting the closure of PCH on a busy afternoon.
The chase started about 1:55 p.m. at Ventura Boulevard and DeSoto Avenue, LAPD said. The driver of a work truck hauling a trailer allegedly hit several cars along Ventura Boulevard and ran a red light. They chased this fool over the canyon and onto PCH.
Shortly before 2:30 p.m., the driver stopped again along PCH and Carbon Canyon Road, and at least six LAPD units were waiting behind.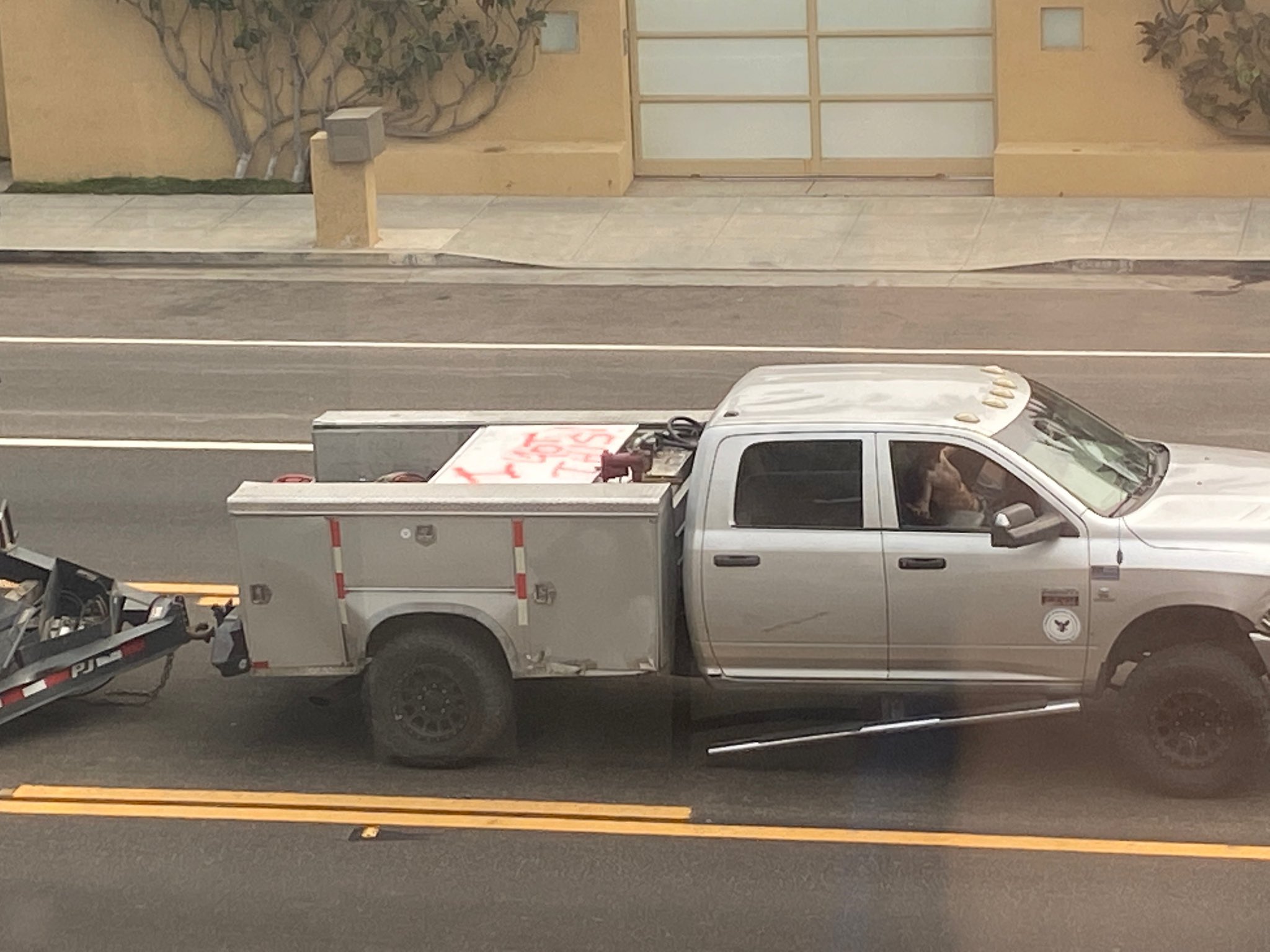 #UPDATE: The truck started again and is now moving. pic.twitter.com/b8wZH3CPp4

— Pepperdine Graphic (@PeppGraphic) September 8, 2020
PCH was shut down from Sweetwater Mesa to Carbon Canyon after the driver stopped.
At 3:10 p.m., officers went up to the driver's side of the vehicle with their guns drawn and forcibly removed the shirtless man from the truck.
#NEW: Police retrieved the suspect from the vehicle. The suspect is now being taken into custody. pic.twitter.com/vi7IpOfJNh

— Pepperdine Graphic (@PeppGraphic) September 8, 2020
As seen in our Tuesday
Instagram Story
, LAPD was investigating what appears to be an attempted murder on a woman at the Venice Pier.
According to one of the officers on the scene, a woman was found severely beaten and left for dead at the restroom just south of the Venice Pier.
The attack happened sometime between 2:00 and 5:00AM, and the womans body was discovered around 6:30AM.
She was taken to the hospital and is in critical condition.
No other info was given, but as seen in our
Instagram Story
, the detective was going over the scene and saying that she was beaten in the parking lot, then dragged over to the backside of the restrooms where her body was dumped.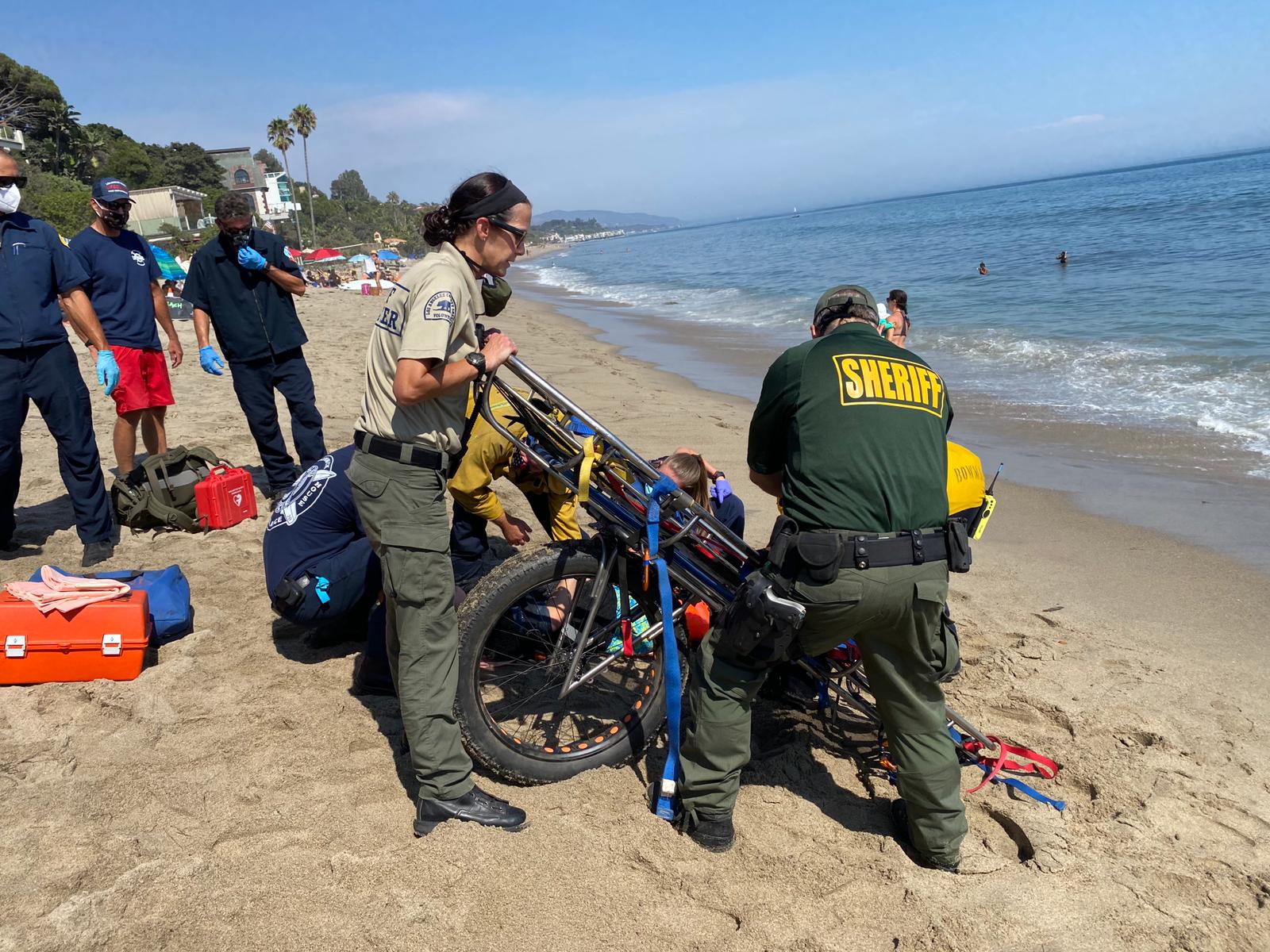 From
Malibu Search Rescue
:
"Female 22, lost consciousness on the beach 1000 yds from Paradise Cove necessitating a litter wheel and litter carry out. "
No other info made available yet.