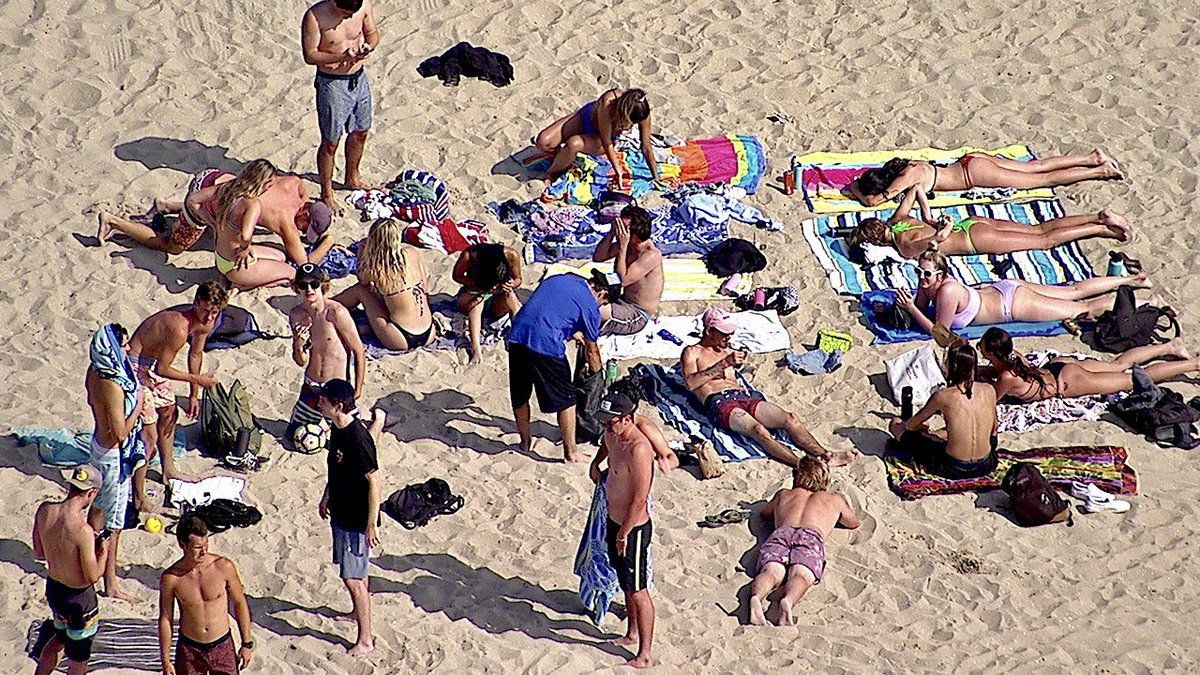 This is a photo take today over Huntington Beach. Photo: Chris Cristi from the ABC helicopter
Gov. Gavin Newsom closed beaches in Orange County on Thursday, overriding some local officials who had rejected his pleas to limit access as the coronavirurs continues to spread throughout the state.
Yesterday, news "leaked" that a
memo to the state's police chiefs was sent indicating that Govenor Newsom was preparing to close all beaches
in the state of California.
This was all because last weekend, images of large crowds at Newport and Huntington made global headlines and that made Newsom mad.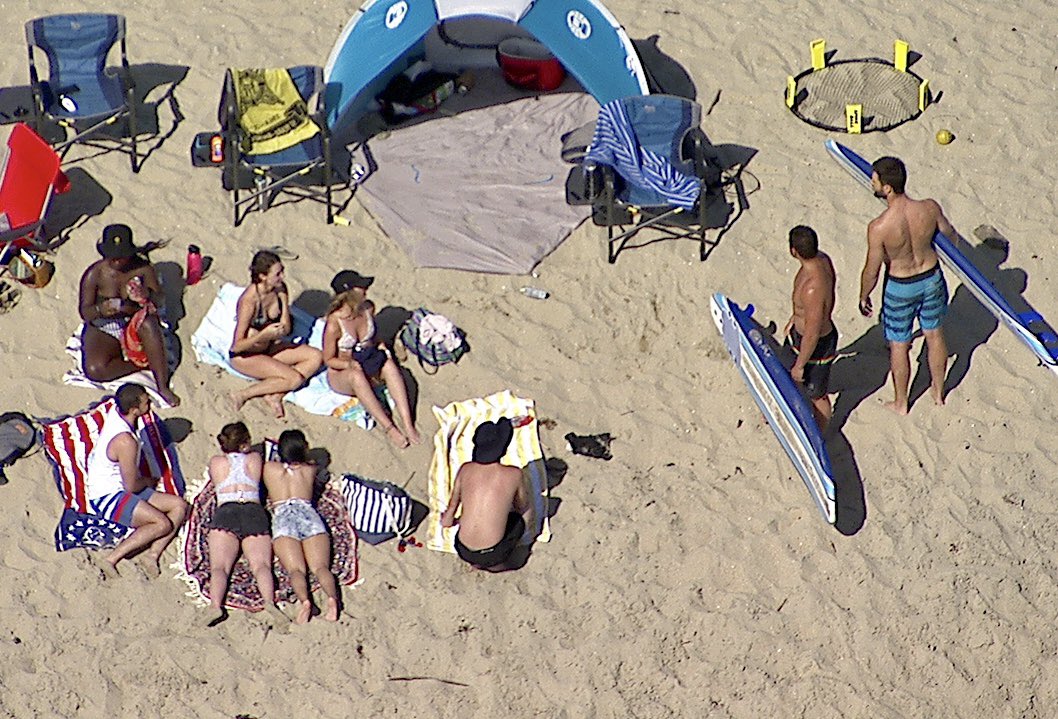 Newport Beach, Friday, April 24. Photo: Chris Cristi from the ABC helicopter
Newsom said those packed beaches were "disturbing" and makes it more difficult for him to consider relaxing the state's mandatory stay-at-home order.
"The only thing that will delay it is more weekends like last weekend," he roared. "Let's not see that happen."
Both Newport and Huntington responded with statements via social media that the crowds were not what all the photos and videos depicted, claiming the images were shot with telephotos lens and other trickery. Newsome didn't buy it.
San Diego beaches opened this week, but with restrictions. Officials are allowing walking, jogging, swimming, single-person paddle boarding and kayaking, and of course, surfing. Stopping, sitting, or lying down on the beach is banned. Good thing SUP'ing is allowed, now the head of the WSL could go out and get some, instead of thinking up more
lame ass WSL reality shows
.
A statement from Newsom's office called restrictions like that "responsible strategies to allow residents to recreate in coastal areas."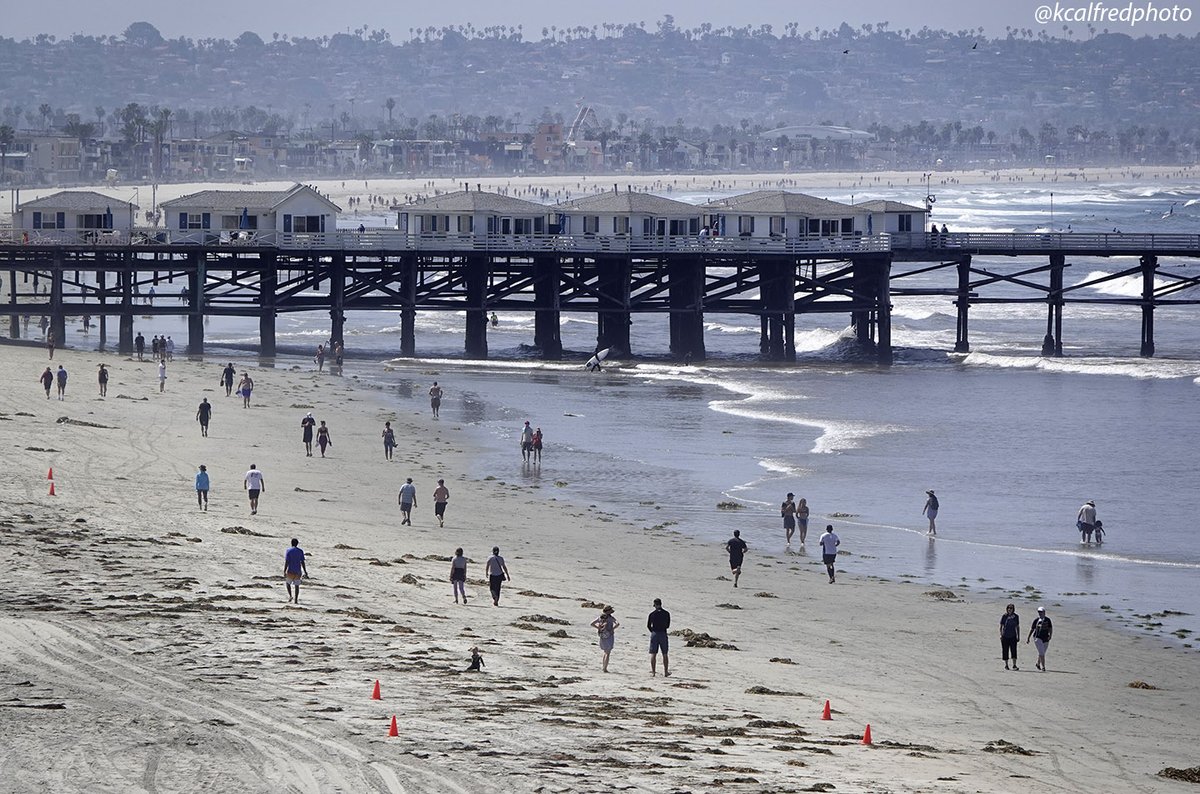 San Diego on April 27. Photo: K.C. Alfred
San Diego beaches were saved from the Gov's new closure order.
Kevin Faulconer, the mayor of San Diego, took to Twitter to announce the news: "Great news: the Governor heard us. San Diego beaches WILL STAY OPEN under our plan approved by lifeguards and health officials. In a time of great crisis we don't need knee-jerk policies. We need to keep a steady hand. It's the only way to keep the public's trust. Keep it up, SD!"
"We are hopeful that Orange County can work with us to apply a similar approach," the Governor's Office said in a news release.
So around noon today, Newsom ended up limiting the new order to just Orange County beaches.
"Governor Newsom just doesn't seem to get it," said Republican state Sen. John Moorlach, a former Orange County Supervisor who represents the area in the state Legislature. "We need to trust people. If our citizens exercise proper social distancing, then we should allow access to the beaches."
"Every local law enforcement entity found last weekend's beach usage in Orange County to be in compliance with social distancing. Yet King Gavin decided press stories were more worthy of trust than law enforcement. I guess we should not be surprised," read a statement from OC GOP Chairman Fred Whitaker.
OC Sheriff Don Barnes said enforcing the beach closure is tricky, especially because officials didn't have the written order Thursday afternoon.
Barnes said sheriff deputies will be looking for "voluntary compliance" on the beach closures, like they do with the existing stay home orders that shut down non-essential businesses like bars, nightclubs, concert halls, sports arenas and movie theaters.
"My responsibility, as the County Sheriff, is to protect lives and property and also while preserving the Constitutional rights of the residents of Orange County. And in that, there's a balancing test," Barnes said at the Thursday news conference.
He said the department will focus on educating residents about the beach closures in a light-handed approach to enforcement.
"From an enforcement component, I have no desire to enforce any aspect of that through arrest. We have various other aspects we are dealing with going forward."
Tonight, the Huntington Beach City Council voted during an emergency session to seek an injunction against Gov. Gavin Newsom's order to close Orange County beaches. The governor ordered Orange County beaches closed on Thursday despite opposition from local leaders who argue they should decide whether it's safe to hit the sand.
And what about Ventura?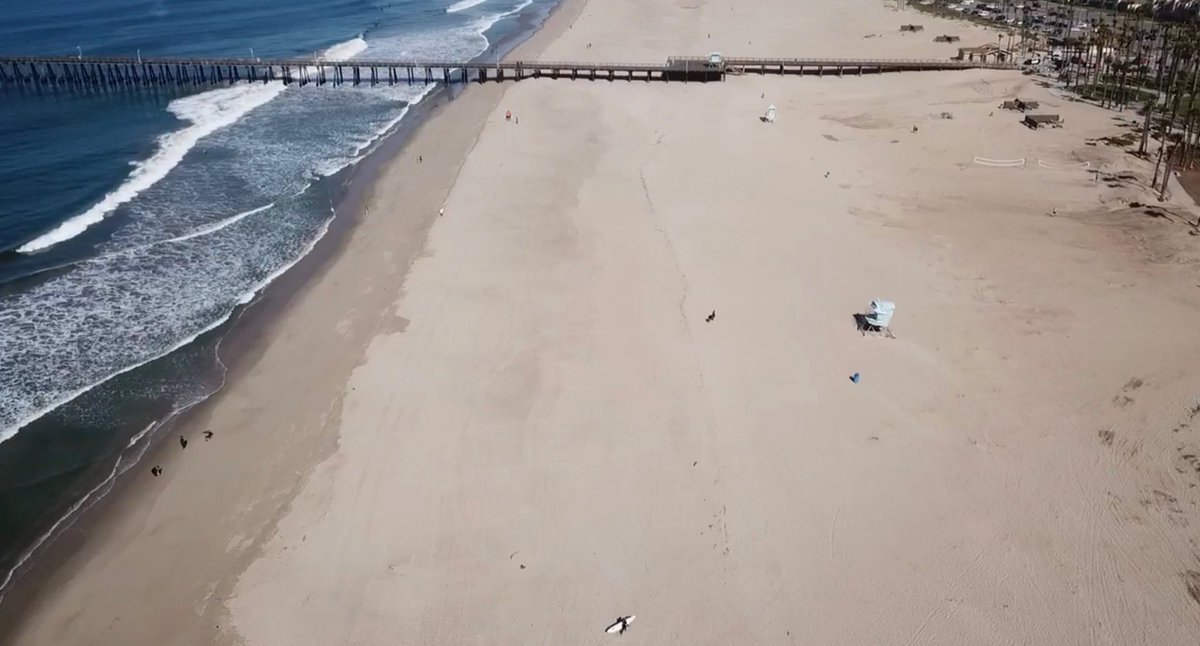 Photo: @CountyVentura
"Despite some of the headlines Ventura County beaches were not packed last weekend", the Ventura County Twitter account stated. "Shout out to our community for following the rules and for the hard work of all police agencies throughout coastal cities. VC you are helping stop the spread of COVID-19"
Ventura has "keep moving" guidelines at their beaches. If you head to the beach you can only walk, run, swim or surf. You cannot sit or sunbathe. Parking and bathrooms remain closed.
"Soft closures at County of Ventura, City of Port Hueneme, City of Oxnard and City of Ventura Beaches. Walking, running, swimming, surfing all good but hanging on the beach is not permitted. Basically, you must keep moving. No sunbathing, chairs, blankets, coolers, sun shade umbrellas. You must keep moving. Please follow social distancing guidance. Please enjoy the weekend safely. Our Deputies and law enforcement throughout the County are on watch."
Meanwhile, all of our Los Angeles beaches remain closed.
For more of our coverage of the Coronavirus lockdown, closures, and how our local surf community and businesses are doing,
CLICK HERE