The legendary
Allen Sarlo
recently came across previously unseen Super 8 surfing footage from the 1970s (including Venice, POP, and the North Shore). Working with an editor, he cut it all together beautifully and has graciously offered to premiere the new film for the
Venice Surfing Association (VSA)
.
The film will screen on Thursday, September 29th at
The Waterfront
in Venice.
This will be the first official screening of Sarlo's Super 8 Time Capsule and will feature a Q&A session with Allen and
Guy Okazaki
.
Tropical Storm Newton has formed off the coast of Southwest Mexico.
According to the National Hurricane Center, Tropical Storm Newton is moving slowly west north west at 9 mph, with maximum sustained winds of about 60 mph.
Tropical-storm-force winds extend outward up to 60 miles (95 km) from the center.
Newton is expected to continue gradually weakening over the next several days. The system will also be encountering drier air over the next several days. All combined, these factors will lead to the slow weakening of the system, transitioning to a remnant low and then dissipating in 72 hours.
It will not be sending much swell to California.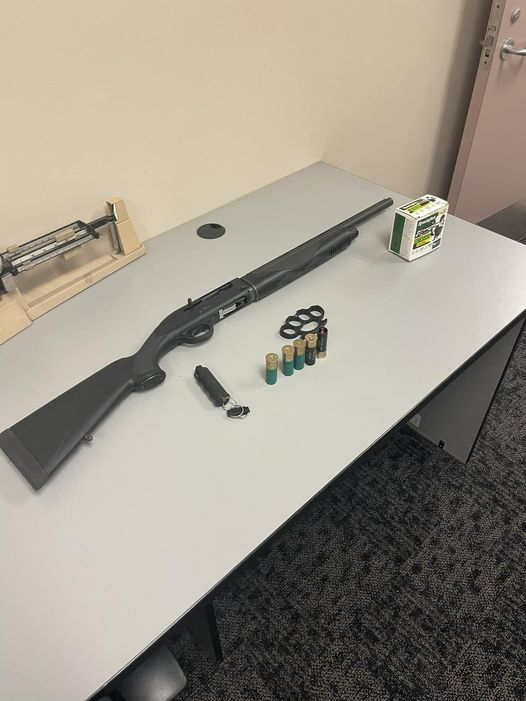 On September 8th, while patrolling the City of Malibu, Lost Hills Sheriff deputies noticed an open, empty six pack of beer next to a parked vehicle. The vehicle had 1 occupant, in the driver's seat.
Deputies pulled up to speak with the driver. While speaking to the driver, deputies noticed signs of intoxication. Deputies detained the driver pending a public intoxication investigation.
During the investigation, deputies saw in plain view, pepper spray and learned that the suspect is a convicted felon. Also found in the vehicle was brass knuckles, a loaded shotgun with the serial number scratched off, and a box of ammunition. The suspect was #arrested for multiple weapons charges including Possession of a Firearm, Possession of Ammunition, and Obliterate ID Markings on a Firearm.
Wednesday morning a wrecked car was discovered abandoned on the trail on Palisades Park overlooking the beach in Santa Monica. The car hopped the curb into the park at Ocean and Wilshire, it hit a tree and continued north on the park's trail till it's damaged front end stopped it near the restrooms by the California Incline.
Facing Monsters, which chronicles the crazy slab exploits and family life of Kerby Brown in Western Australia, may be the best movie about a surfer, ever (according to their press). There will a screening of this film with a Q&A session, in Los Angeles on October 4th at
Brain Dead Studios
on Fairfax.
Facing Monsters digs deep into the psyche of West Australian surfer Kerby Brown, a man whose connection with the ocean runs as deep as his love for his family. Far more than just a surfing story, it's an unapologetic musing into the essence of Kerby and his family as we join them on his quest to ride a ferocious slab wave in the deep Southern Ocean that no one on the planet has surfed before.
Brain Dead Studios
611 N Fairfax Ave, Los Angeles, CA 90036
To buy tickets,
Click Here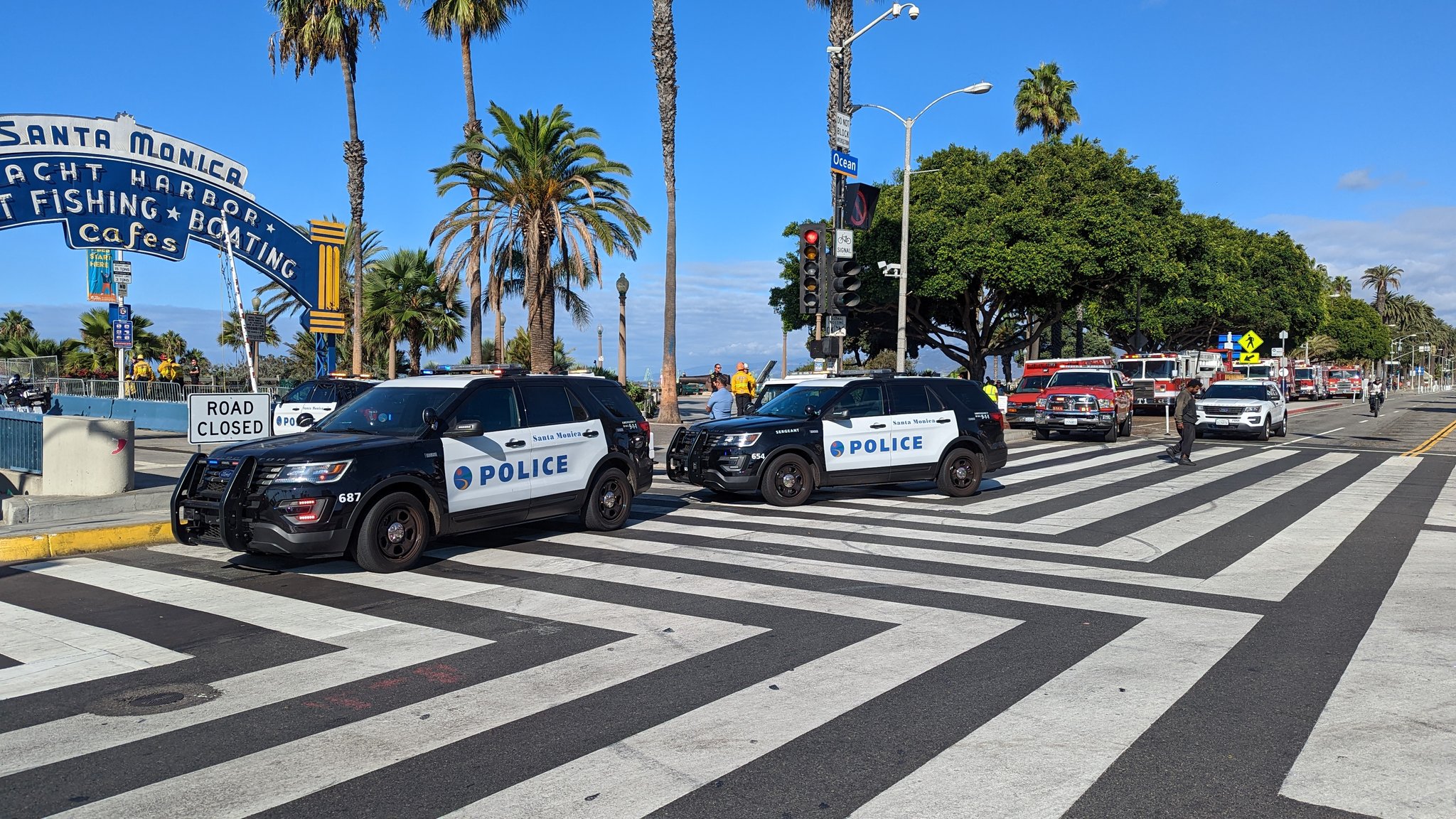 A large police and fire presence was visible on Ocean & Colorado infornt of the entrance to the Santa Monica Pier Tuesday morning.
A witness said "Somebody climbed over the rail of the overpass to the pier and was hanging there."
Thanks to the joint efforts of SMPD, LA County Fire & Santa Monica Fire, the individual in crisis has been transported to a local hospital.
If you or someone you know is thinking about harming themselves call the National Suicide Prevention Lifeline 1-800-273-TALK or text 988.
Venice Surfing Association (VSA)
first contest will be Saturday, October 15th at the Venice Breakwater.
The VSA has also announced the divisions:
6U (and under) - paddle assist or self paddle
Boys 12U
Girls 12U
Boys 18U
Girls 18U
Open Men
Open Women
Open Longboard Men
Open Longboard Women
Open Master 35+ Men
Open Masters 35+ Women
Open Legends 50+ Men
Open Legends 50+ Women
The contest is for open and free to all VSA members. Non-memebers will have to join the VSA to compete.
Register for the contest or to join the VSA,
Click Here
Monday morning, SMPD officers responded to a report of an individual with what was believed to be a rifle in his backpack.
According to witnesses, it was a homeless man on a bike.
Upon arrival, SMPD determined the item was a toy. The suspect was transported to a local hospital for a mental evaluation.
Photos via SMPD and
The Mason Brown Surf Report
.
Remember, See Something... SAY Something. 9-1-1 for Emergencies and 310-458-8491 to speak with a non-emergency dispatcher.
A large earthquake just occurred at approx 11:05AM on Monday near the Pacific coast of central Mexico.
The NOAA has issued a NO TSUNAMI THREAT for California.
* There is no tsunami danger for the U.S. West Coast, British Columbia, or Alaska.

* Based on earthquake information and historic tsunami records, the earthquake is not expected to generate a tsunami.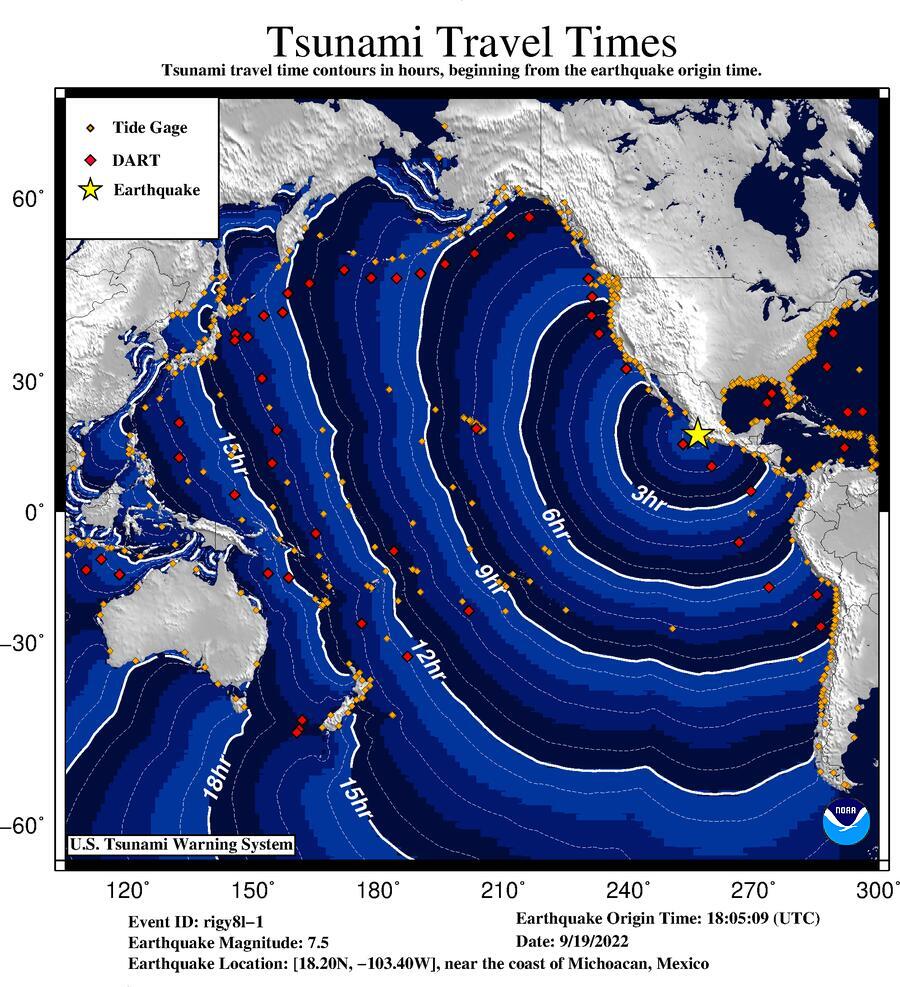 Authorities responded to reports of a shooting.
When the first officers arrived on the scene, they found two victims suffering gunshot wounds.
The first victim had a gunshot wound to the chest and the second was shot in the leg.
Paramedics arrived and transported both victims to a local hospital. The first victim was in critical condition the second was in serious condition.
The suspect was described as a male Hispanic 5'7 to 5'8 last scene running on Rose.
No other injuries have been reported.
Cell phone video shot overnight, shows a suspect going in and out through a broken window and loading stolen surf boards and several items into a BMW.
Witness tells me, "I was sitting outside African surfboards last night on Abbott kinney, and some guy shattered the window behind me with a crow bar then stole a bunch of stuff."
Guy smashes front window of Mami Wata surfboards in Venice Beach and casually makes several trips in and out stealing surfboards and other items. This shop is located on Abbott-Kinney which is a popular block for shopping and nightlife in Venice. 📷 @ppv_tahoe pic.twitter.com/5K9GtnD0fc

— STREET PEOPLE OF LOS ANGELES (@streetpeopleLA) September 18, 2022
Super League Triathlon Star Vasco Vilaca was bitten by a seal while training at Zuma on Eve Of Malibu Triathlon.
News coming from Super League Triathlon
The 22-year-old Portuguese star, who finished second in Munich last weekend, was on a training swim with fellow athletes at Zuma Beach when the incident took place.
The seal bit Vilaca's arm, leaving the athlete to try and get it off and then move away safely without distressing the animal.
Super League Triathlon were filming the athletes at the beach and captured dramatic footage of the incident.
Vilaca said: "I was just swimming in the ocean and was unlucky enough to swim towards where a seal was. It started swimming towards me and got very close and it felt like a dog smelling me.
"I tried to just slowly, without doing anything aggressive, push it away and at a certain point there was a strong wave that pushed it against me and then I pushed it more aggressively away because it was on me and then it got scared and bit my arm and wouldn't let go.
"I tried to grab the teeth from under and open the mouth and get it away and wanted to swim away but I didn't know what to do with the seal because I thought if I let go it would bite me again."
Vilaca was able to swim to shore after a large wave dislodged the seal and was treated by lifeguards on the beach before being taken to a medical facility to be checked out. He received treatment for the wound before being discharged to race at the weekend.
He added: "When it bit me I had a wetsuit on but one of the teeth cut through and punctured through the skin. When I was grabbing the teeth from underneath and was grabbing the mouth was when I got a few cuts on my hands. I am happy to be ok."
From
Santa Monica Close Up
:
"According to Santa Monica Police Department Public Information Officer Flores, on Friday, September 16, 2022, at about 5:55 PM SMPD Officers were dispatched to investigate a robbery that took place in the area of Appian and Seaside Terrace. Officers met with the victim who told them a group of juveniles assaulted him then stole his bicycle. Shortly after an officer operating a drone, observed a group matching the description of the subjects walking eastbound on Colorado Blvd. The group was subsequently detained on the Metro Expo Line platform at 4th and Colorado. The victim was able to identify one of the males as being involved and his stolen bicycle was recovered. The juvenile male was arrested for robbery. Officers identified all the other males. Detectives will review footage to see which other males were involved."
Santa Monica Close Up
is a photo blog by Santa Monica based Photojournalist/Press photographer Fabian Lewkowicz. Fabian is the former staff photographer for the Santa Monica Daily Observer Press, Santa Monica Mirror, Santa Monica and the Santa Monica Corsair.
Support Santa Monica Closeup/Fabian Lewkowicz with Venmo or PayPal to help earn money to make these videos:
https://venmo.com/u/santamonicacloseup
https://www.paypal.com/paypalme/fabianlewkowicz
*DUE TO THE CONTENT, SOME BROWSERS MAY ONLY BE ALLOWED TO VIEW THE
VIDEO ON YOUTUBE
On Thursday morning, the Shacked Instagram Stories showed a naked man destroying a van in the Venice Beach parking lot. It left many unanswered questions, especially "who's van is it"? The answer is, it is his own van.
The naked man is an aspiring "music producer/rapper" from Colorado who came to Venice Beach a couple weeks ago.
From viewing his various and numerious social media accounts, it appears he only recently became homeless while he was still living in Colorado. The van (which is in several photos parked at a residence) has become his home and recording studio.
He has been making music and posting his songs online for a few years. He decided to come to Venice Beach to persue his dream.
Subscribe to Shacked's YouTube for more videos: