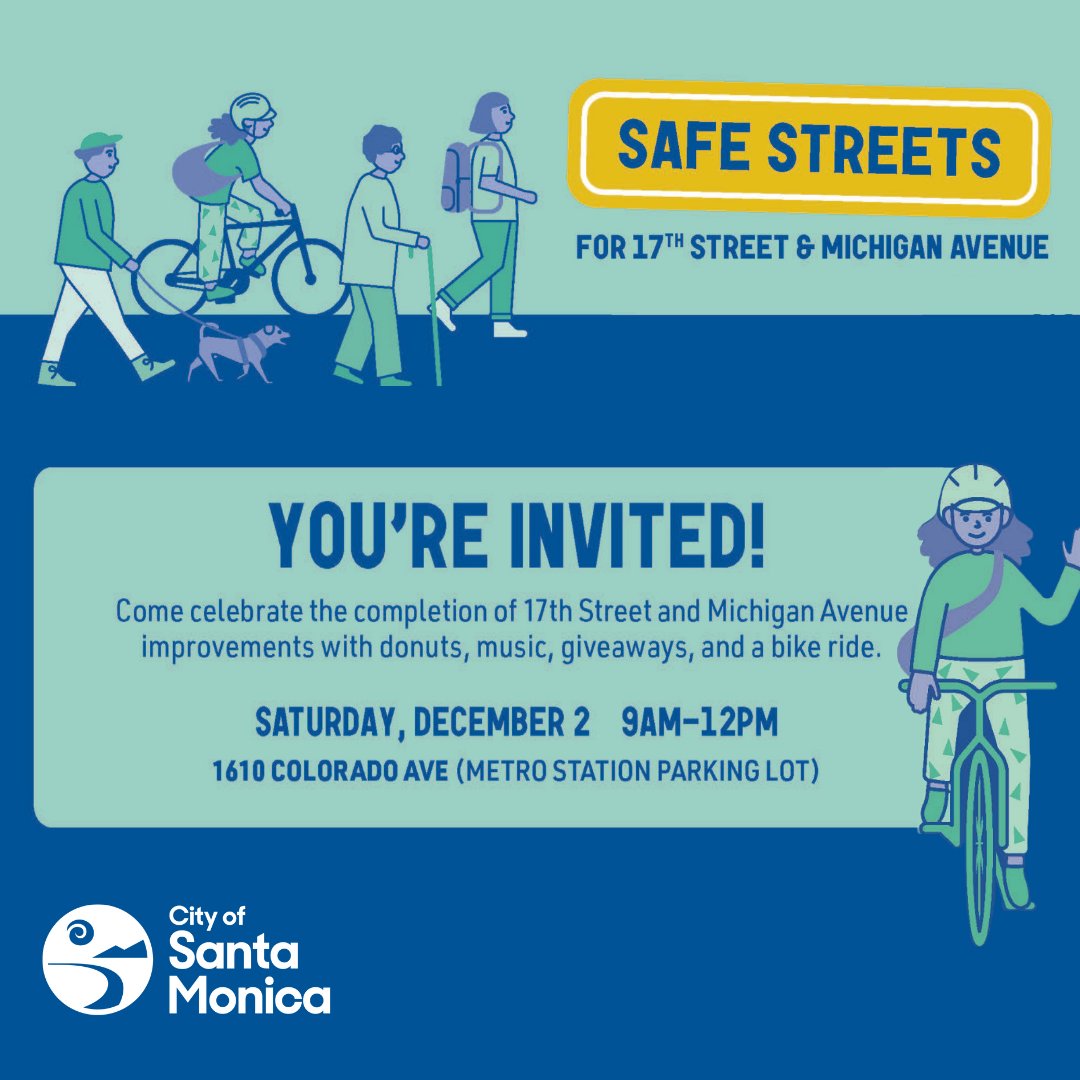 Come celebrate the completion of the Safe Streets for 17th Street and Michigan Avenue project on Saturday, Dec. 2 at 9 a.m. at 1610 Colorado Avenue (Metro E line parking lot). We will have donuts, activities, and remarks from the Mayor.
On Saturday, Dec. 2, the city will celebrate the completion of the newest addition to its protected bike network with a ribbon cutting ceremony and a morning full of free, family-friendly activities.
The celebration kicks off at 9 a.m. and goes until noon at the 17th St./SMC Metro E Line parking lot at 1610 Colorado Ave.
By improving bike and pedestrian safety and promoting sustainability to combat climate change, the completion of the Safe Streets for 17th Street and Michigan Avenue project marks a crucial step towards advancing the city's key strategic priority of fostering a Sustainable & Connected Community.
In line with this priority, the project builds upon foundational city initiatives rooted in deep community engagement and feedback including the adopted Bike Action Plan Amendment, Pedestrian Action Plan, the Michigan Avenue Neighborhood Greenway (MANGo) Plan, and the city's Land Use and Circulation Element.
"I'm thrilled to see such a robust, thoughtful and important multi-modal project come to completion," Mayor Gleam Davis said. "By increasing separation from moving traffic and connecting neighborhoods, this project helps make walking and biking easier, encouraging sustainable practices that lead to healthier communities."
The Dec. 2 event will feature music, performances and workshops, including:
- Santa Monica High School marching band
- LA Jugglers performing with vintage bicycles
- Academia de Danza Ballet Folklorico Flor de Mayo
- Guided bike rides
- Free bike repair and tune ups from Santa Monica College Bike Maintenance Class
-
Helmet
decorating with Santa Monica Spoke
- Bike basket and accessories workshop with reDiscover Center
- Remarks from Mayor Gleam Davis, Police Chief Ramon Batista, and Department of Transportation Director Anuj Gupta - Remarks from Cynthia Rose of Santa Monica Spoke
- Free donuts, coffee and hot cocoa
For more info,
Click Here
Find out about more upcoming local events,
Click Here
for the Event Calendar.