4:10 PM - 0 Comments
The North Pacific is seeing a late season active pattern — taking over after a prolonged period of poor surf in Hawaii and for much of the US West Coast the past six to eight weeks. In the South Pacific, the start of meteorological fall in the Southern Hemisphere (March 1st) has brought an increase in storm activity, which progressed from the Western South Pacific to the Central South Pacific where it currently sits. All of this adds up to improved surf for both Hawaii and California in the shorter term — with a chance for XL swell in Hawaii and for portions of the West Coast as we go deeper into March.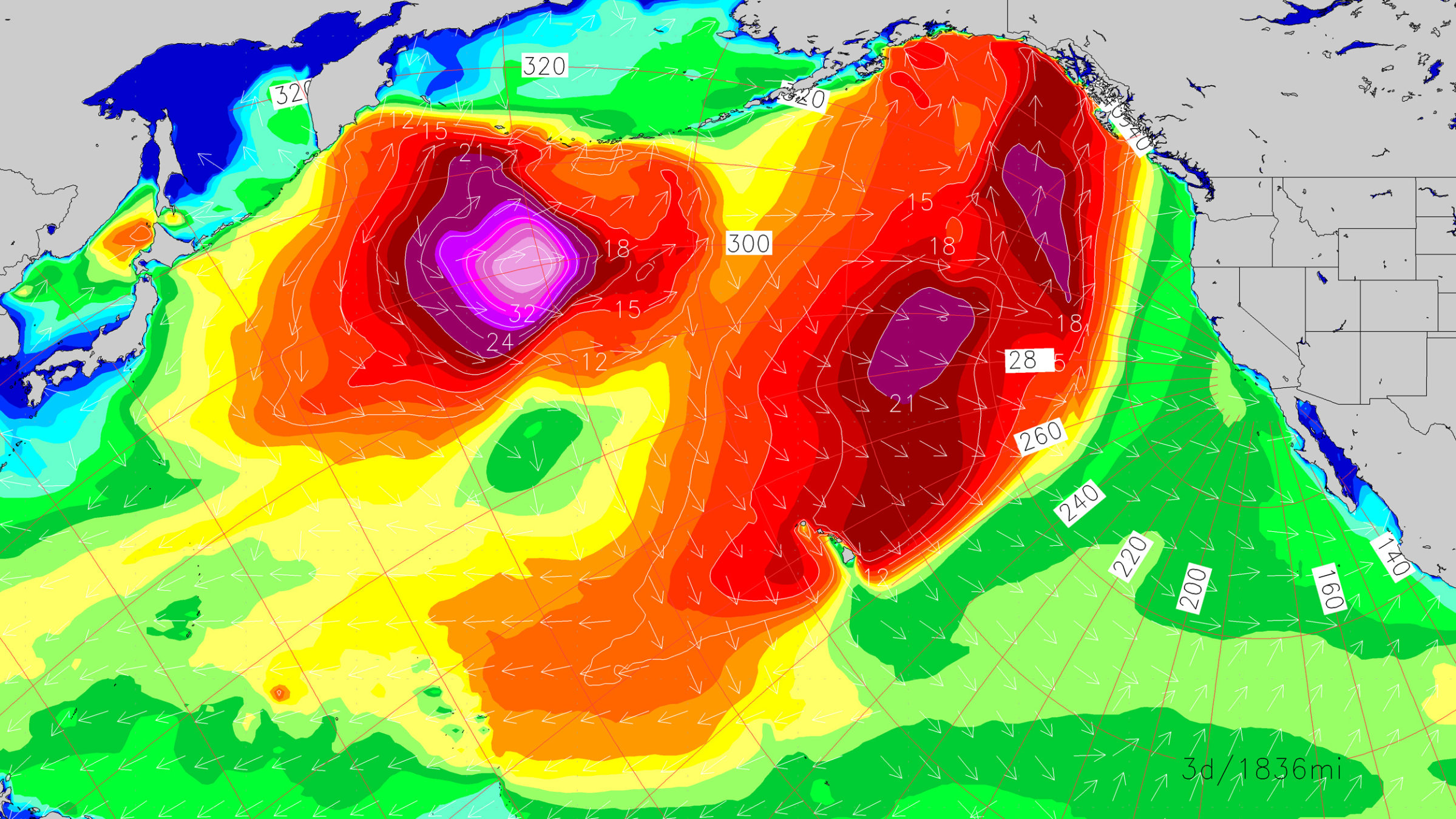 During the next few days, the primary reason we'll see better surf for Hawaii and California will be due to an improvement in local winds. Both regions have seen persistent onshore flow and cooler-than-normal temps for the past month, with nearby low pressure generally the culprit behind that onshore flow. As high pressure weakens north of the Islands during the back half of the week into the early weekend, trades should relax and shift to a more east-northeast to east direction, with generally clean conditions along northern shores.
Fun to mid-size swells from the northwest prevail during that time — so whether you're surfing or watching the cams from afar, entertainment value will be there. However, keep an eye out for a wind shift as we move through the weekend with deteriorating conditions and eventually a much more significant swell (more on that in a second).
For California, strengthening high pressure over the western US will lead to an extended stretch of mild, sunny weather and favorable wind. By the weekend, temps should be above seasonal average for the first time since mid-January — many areas seeing morning offshore flow and a mix of swells running. Mid-size northwest swell will show strongest for areas north of Point Conception, but enough energy will get around the corner into Southern California for something to ride, while the best-exposed winter breaks should be fun.
We'll also have a modest, fun-sized southerly swell in the mix, strongest through the south facing spots of Southern California. This swell is starting to slowly filter in now from a more southwest direction and will shift south-southwest later this week and weekend thanks to storm activity in the South Pacific that happened seven to ten days ago. We've seen good waves at locales well South of the Border in the past couple days, which is a solid indication that the southerly swell is on the way.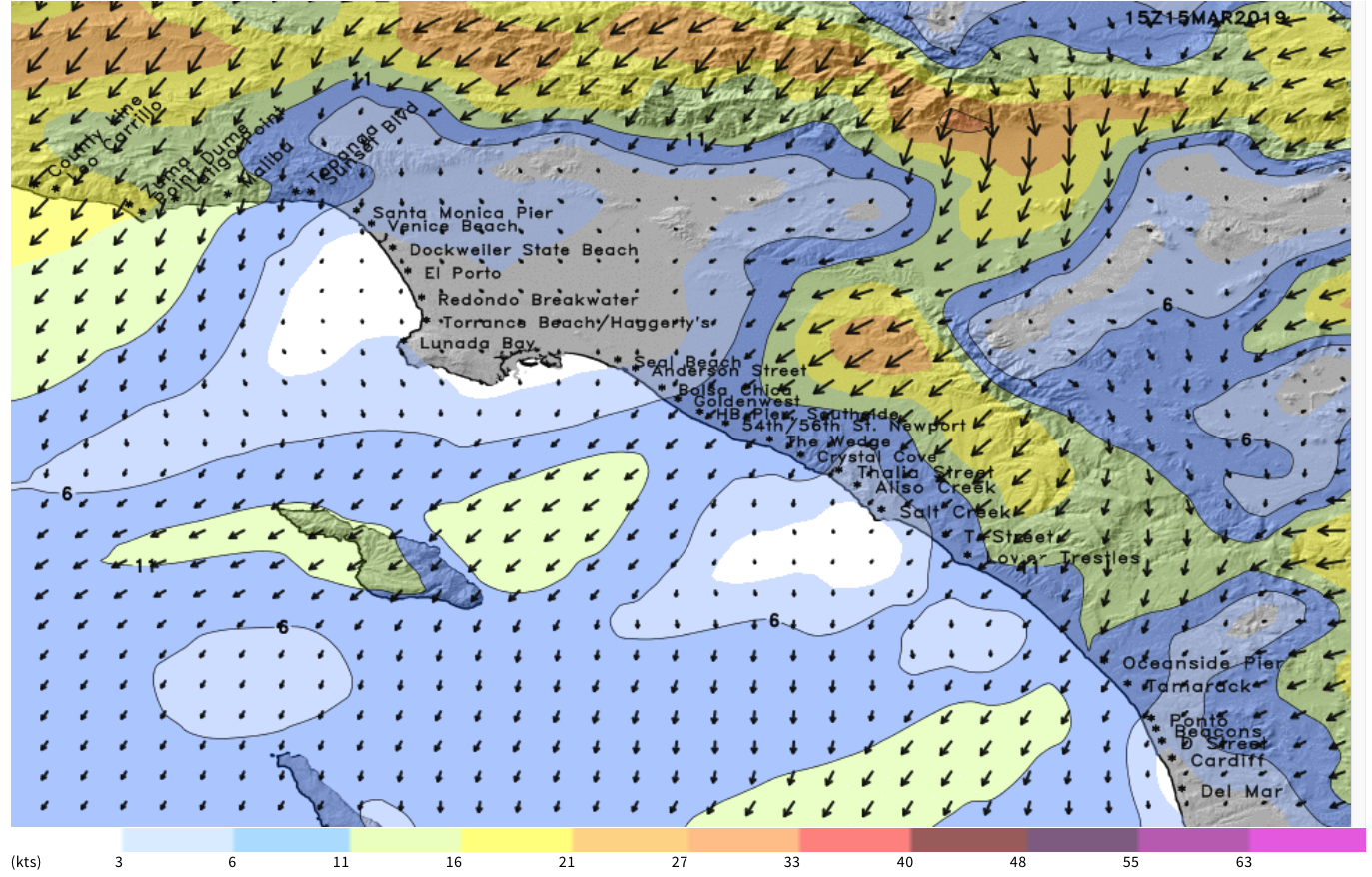 SoCal beachbreaks should be a good option Friday through the weekend off the mix of swells coupled with favorable wind and pleasant weather. Be sure to pack some neoprene, though: while air temps will warm this weekend, water temps are still quite cool and breezy northwest flow along the coast Tuesday-Wednesday – and resultant upwelling – cooled things further. Northern California breaks are in the lower 50s, while SoCal breaks are generally in the mid 50s.
One thing to watch out for: there is some uncertainty on how deep into next week the favorable conditions will continue for California. Just a couple days ago it looked like it could be most of the week, especially for Southern California. However, the latest model guidance shows the potential for onshore flow and precipitation to return by the middle of next week. We'll need to work the details out in the next few days, but the bottom line is that late this week and this weekend look good for wind and weather, so take advantage of it while it's here.
Going into the longer range we continue to watch for a stronger storm pattern to develop in the western North Pacific and eventually stretch into the central and eastern NPAC. The climate models started to advertise this shift during the back half of February, and it's been on the long-range weather charts for a couple of weeks now as well. Under this pattern, we expect to see solid to potentially XL swell for both Hawaii and California during the back half of the month, with these swells also more 'westerly' for California. Again, there is some uncertainty on the specific details for size and timing of these potential swells, but confidence is slowly increasing on those variables.