Due to the COVID-19 pandemic, the 2020
Santa Monica Pier 360
event has been cancelled.
"While this is disappointing news, the safety of our team and athletes is our top priority. If you're already registered, your fee will be refunded automatically. We look forward to seeing you in 2021!"
For more of our coverage of the Coronavirus lockdown, closures, and how our local surf community and businesses are doing,
CLICK HERE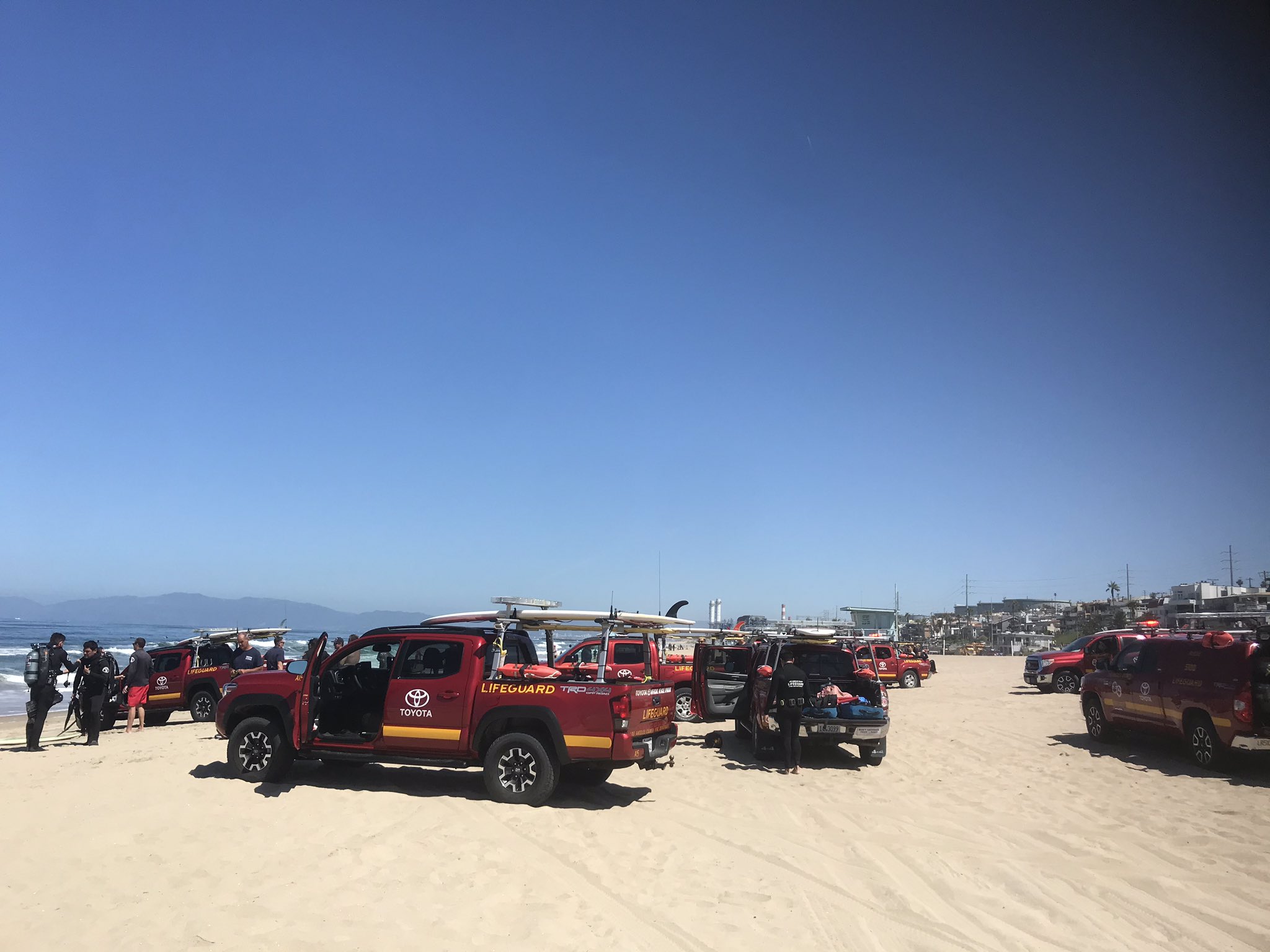 On Thursday at approximately 10:45AM,
La County Lifeguards
responded to a reported missing off 34th street in Manhattan Beach
Dive 1 was on scene conducting sub surfaces searches. Lifeguards conducted searches of the surf line. Air Ops are on scene conducting an aerial search.
5 Dive team members conducted a sub surface search and 15 free divers searched throughout the surf zone. The area has been saturated with no findings.
According to the Manhattan Beach Police Department, no outstanding missing persons are reported.
At approximately 11:50am, all Lifeguard sub surface searches have been concluded. LG beach units and Baywatch rescue boats will remain on seen patrolling.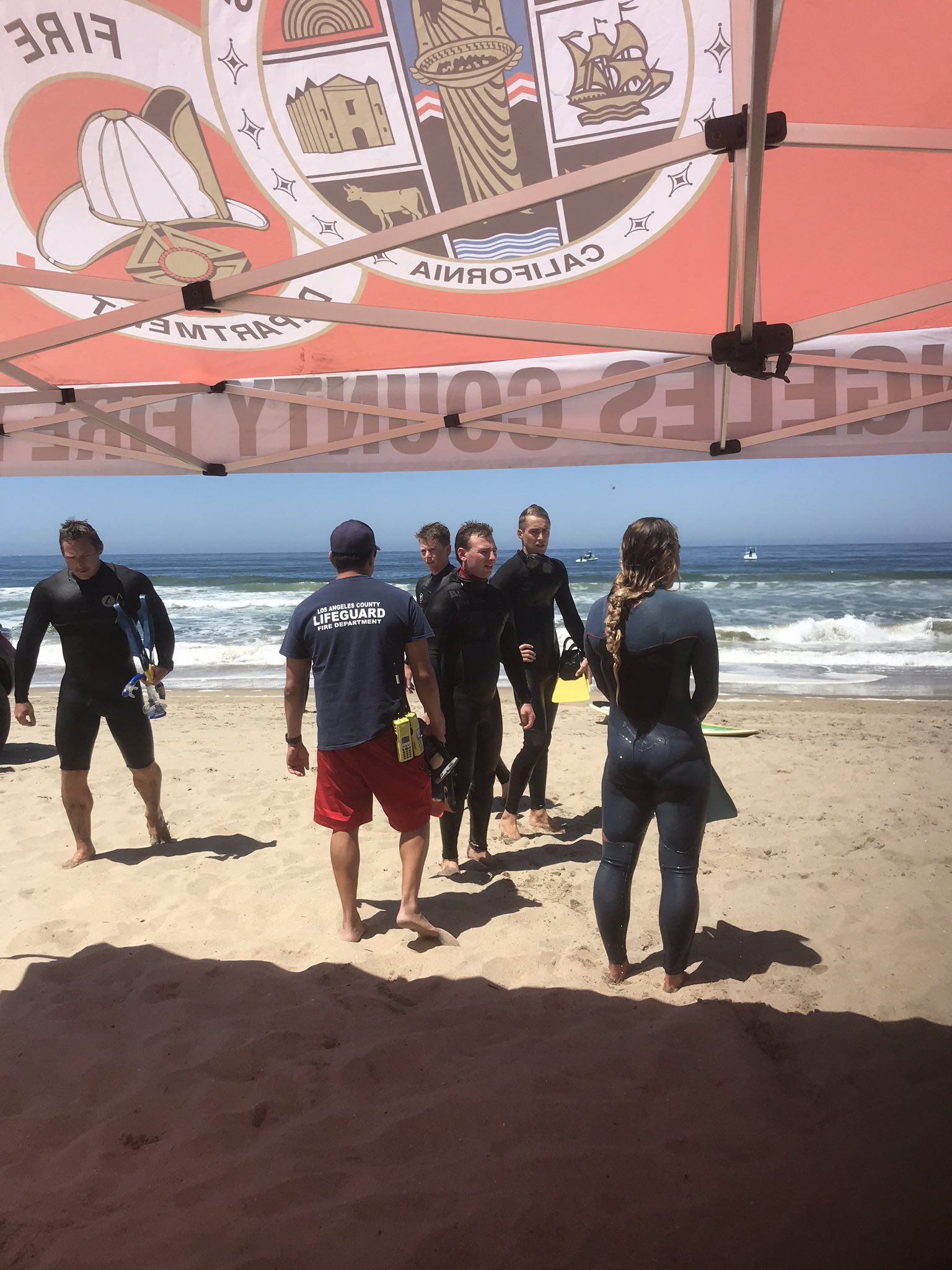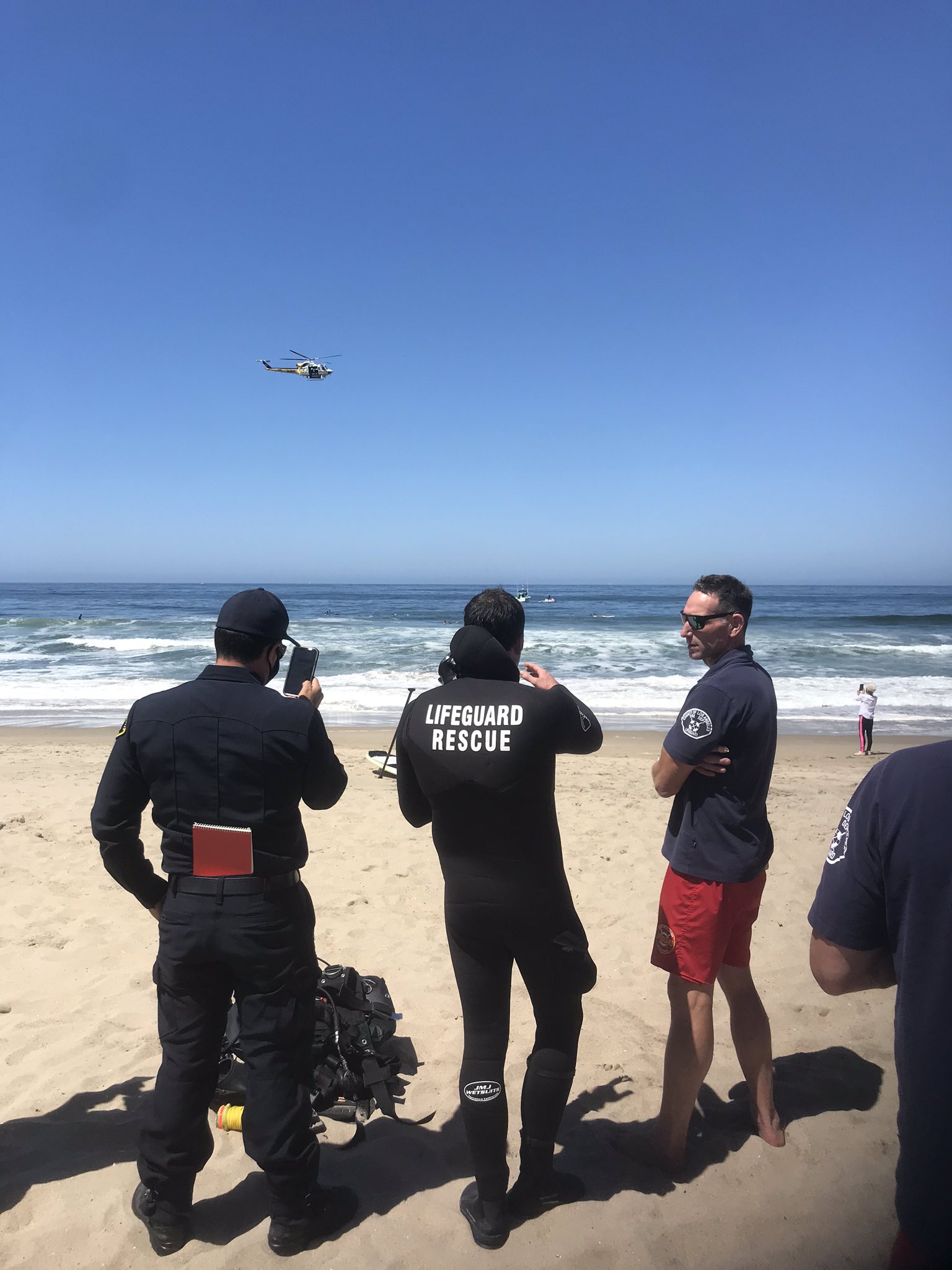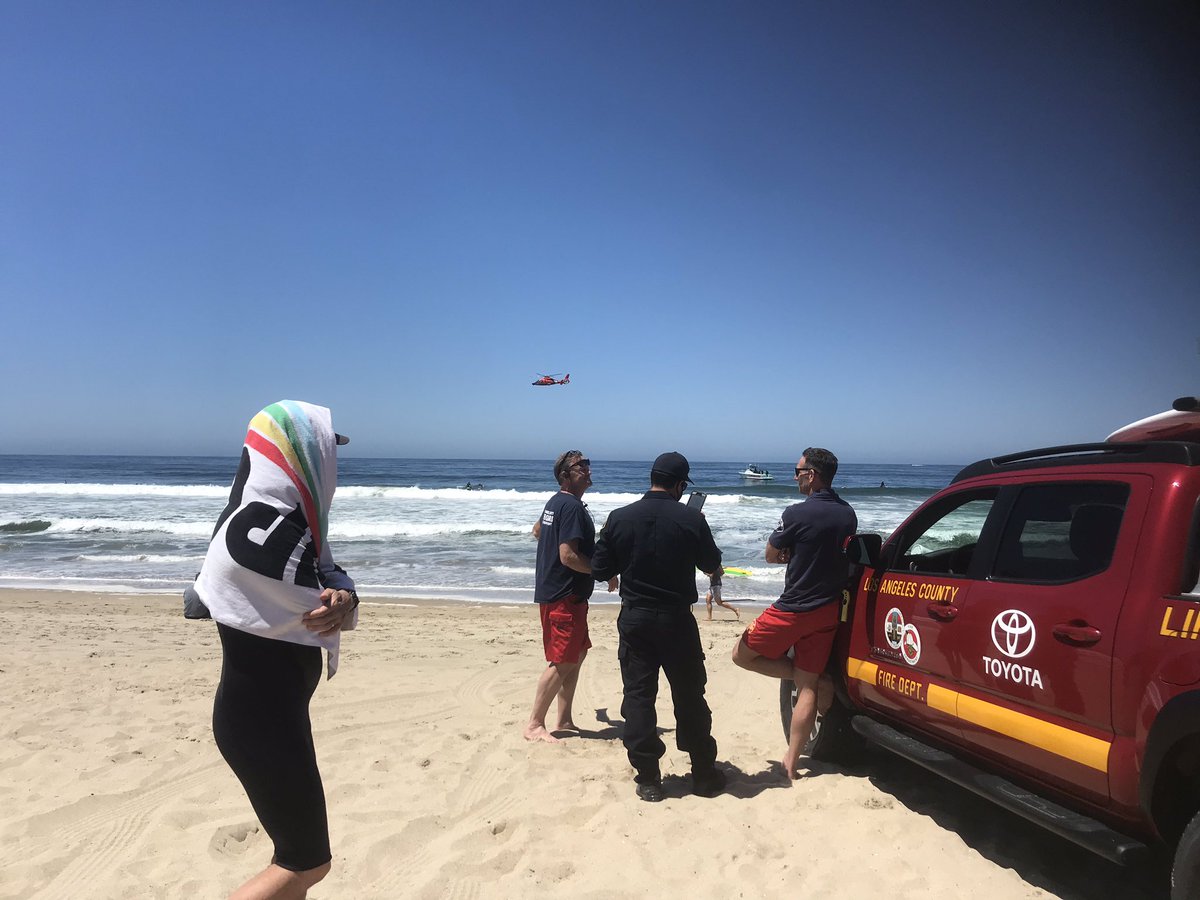 Photos:
LACoFD Lifeguard Division
National Beach Safety Week is here and with that
LA County Lifeguards
would like to take some time to talk about Rip Currents.
Rip Currents are channelized currents of water flowing away from shore at beaches with surf. Rip currents can occur at any beach with breaking waves and the bigger the waves, the bigger and stronger these currents can pull.
Rip currents can be identified by differences in the appearance of the water. Common features include churning/choppy water, difference in water color (sandy appearance), or a break in the incoming wave pattern amongst others.
Spotting a rip current can be difficult for beach goers which is why we always recommend checking in with the Lifeguard BEFORE getting in the water. Lifeguards will provide information on the current ocean conditions and steer beach goers clear of any existing hazards.
For more Rip Current info visit:
LACountyLifeguards.com
Similar to what happened at Huntington Beach a few weeks ago, photos of crowded beaches in Malibu this past weekend are making the headlines, and causing that Department of Public Heath Director lady, Barbara Ferrer to start with her vague threats.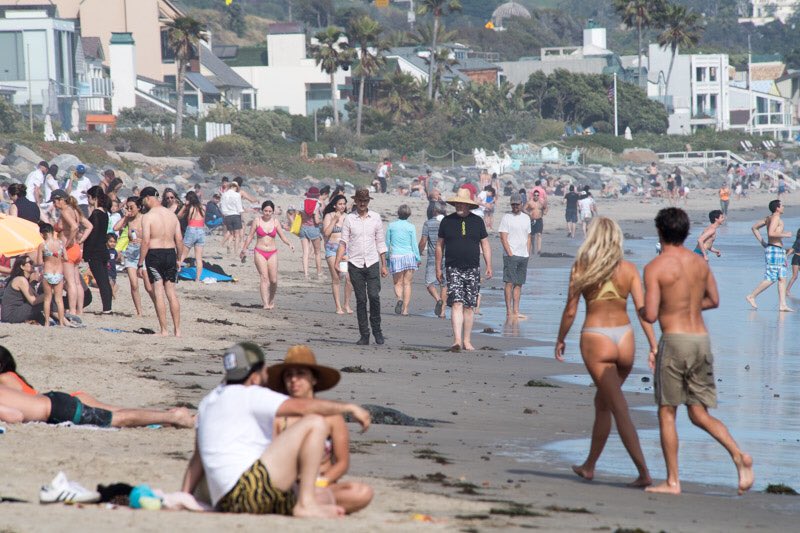 These are some of the photos from Broad Beach resident Rodger Grossman that KTLA Reporter Eric Spillman started posting to his Twitter which started it.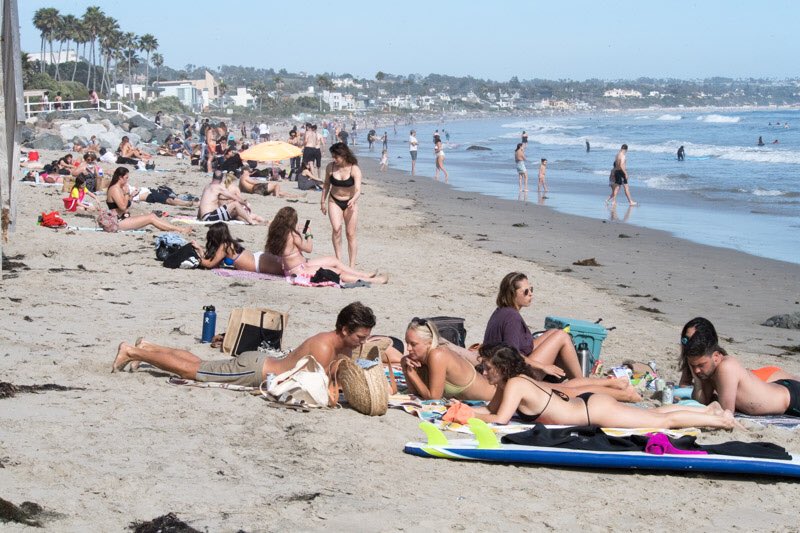 "The photos are real and there were hundreds of people on the beach no social distancing and no masks. Directly in front of my house there was human waste, used tampons, garbage and used condoms," Malibu Resident Leslie Grossman stated," "I watched it all day Saturday from my window."
City Officials and the sheriff's Department are coming under fire about allowing it to happen, even though there is proof they were trying to keep everyone moving:
LASD patrolled from Broad Beach to Westward. Most people were cooperative when told to "keep moving". The photos Grossman are greatly misleading as was his post. The county needs to get their messaging down. I have plenty of footage. pic.twitter.com/YbNpgRc9qW

— Cece Woods (@Cece90265) May 18, 2020
Los Angeles County Public Health Director Barbara Ferrer talked about this in her daily press conference on Monday. "We got reports. We're working very closely with Beaches and Harbor to make sure this doesn't continue to happen. If people are willing to blatantly disregard their obligation to make it safe for others, it's impossible to continue to move down a path towards recovery, because this is what is going to overwhelm our healthcare system. You don't know when you're in a public space who the people are who are around you, you may have underlying health conditions."
"When we talk about Safer At Home, we talk about being responsible," County Supervisor Kathryn Barger said. "The only way we're going to get to a position where we go into the next phase is by people acting responsibly, so when I hear stories like this it frustrates me. Enforcement is going to be the key, but I would hope that people would use common sense when they are out doing that."
It is not just the size of the crowds, but the reports that most were not social distancing, sunbathers laying on the sand, and up to 90% of the people on the beaches were not wearing masks.
As well as complaints about dogs being off leashes on the beach, parking not being enforced, and open containers of alcohol.
Another of Grossman's photos where he shows "Open containers of alcohol".
Noticed a lot of Grossman's shots do have girl's butts in them.
Malibu was trying to keep the parking under control, the city reported that their Sheriff's Volunteers on Patrol issued more than 977 parking citations, a weekend record.
For more of our coverage of the Coronavirus lockdown, closures, and how our local surf community and businesses are doing,
CLICK HERE
According to Surfline, "Fun-zone combo of SW and NW swells to start the week."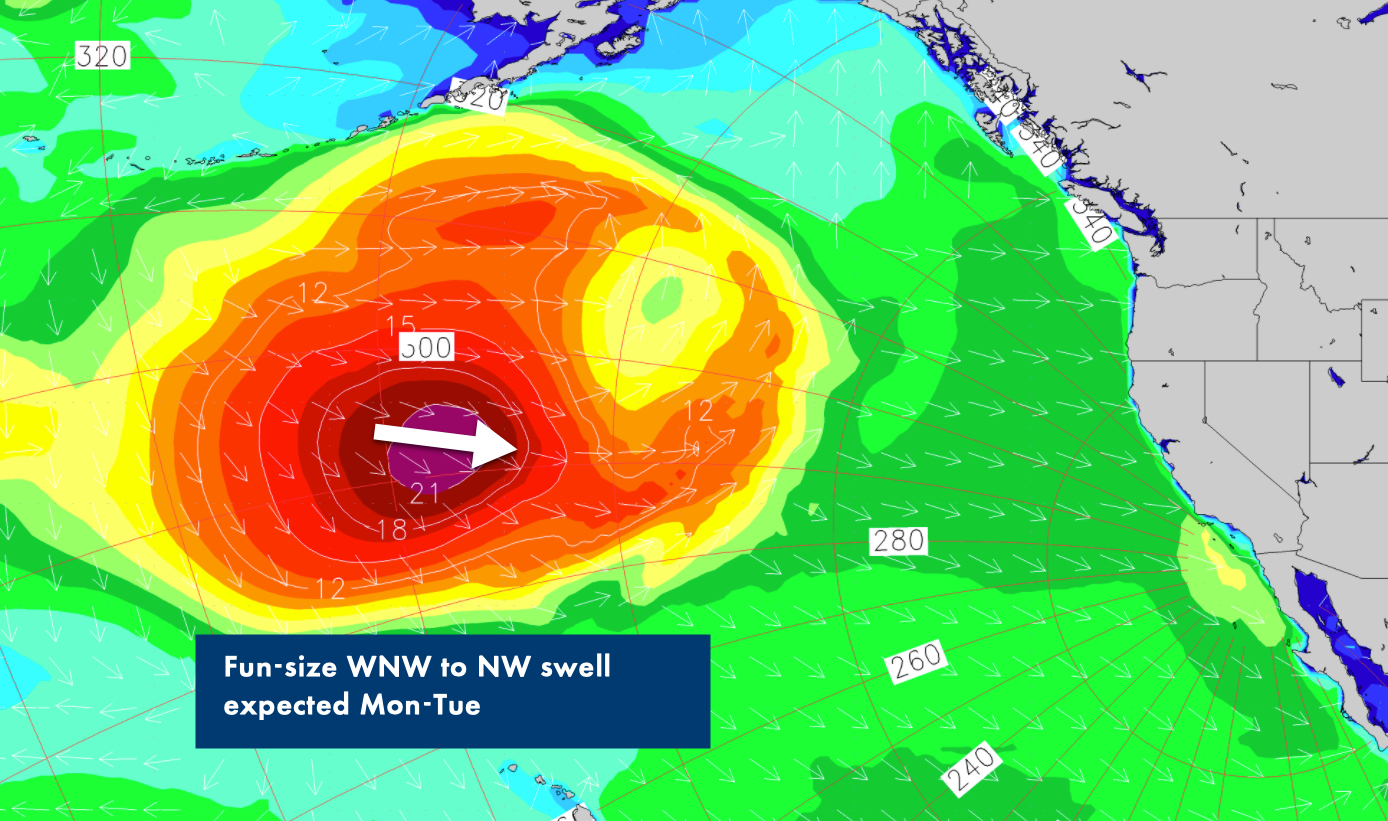 Monday, May 18th: 3-4′ at most breaks, 4-6'+ sets at standouts — Light AM onshore wind but manageable.
"Long-period SSW swell (210-195) tops out while WNW-NW swell (285-295) mixes in setting up waist to chest-high zone surf through most exposures. Standouts in Los Angeles pull in shoulder-high+. Winds have been a challenge to forecast over the past few days but looking better today: We expect light SW-to-W onshore wind through the morning, likely putting some surface texture on most regions. However, conditions should still be pretty fun with the combo swell offering fun-zone peaks. Moderate W wind deteriorates conditions by the afternoon."
Tuesday, May 19th: 3-4′ at most breaks, 4-6′ sets at standouts in AM — Lightest wind in the morning.
"Blend of SSW and NW swells slowly begin to ease through the day. Most breaks continue around that waist to chest-high range with standout summer/combo breaks up to shoulder/head-high on sets. We'll see a diurnal pattern return for North LA through SB with light/variable to weak offshore wind and generally clean conditions in the morning. Moderate W wind picks up throughout the region midday and into the afternoon."
Latest Update was 5:00 PM 5-18-2020.
As of now, this is an on-going story. Newest updates are added as they come in, scroll down for all the updates as they are posted in chronological order.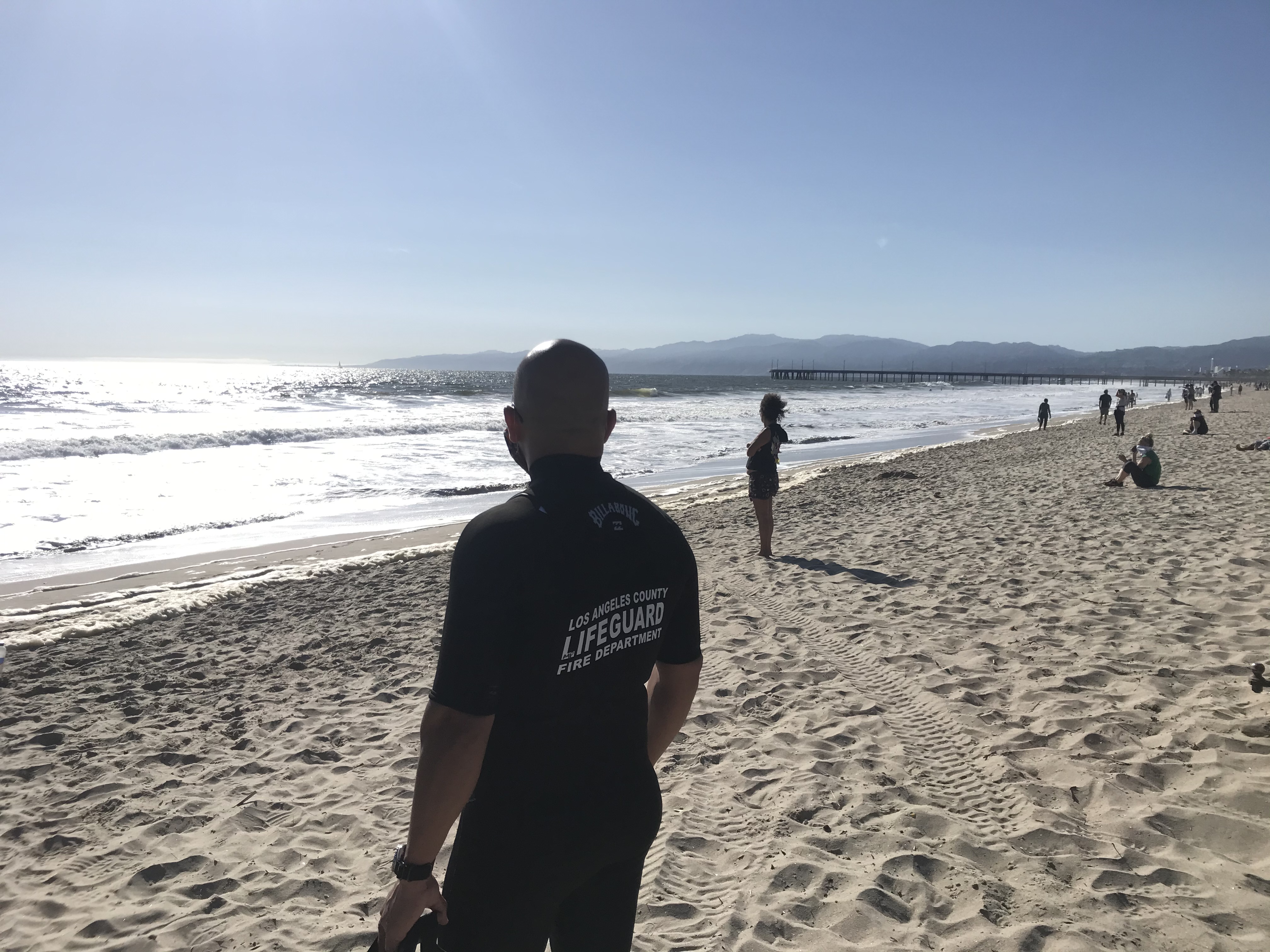 Around 3:40pm, LA County Lifeguards responded to a call, a large group of swimmers got pulled out by the strong rip current. Lifeguards made contact with a number of the swimmers, but one did submerge. They are searching for an adult male.

LA CO Fire Dept reports were that they evaluated a 10 year old boy after lifeguards rescued him from the water and are currently searching for his father who remained missing as of 5:30 p.m
Around 3:40 p.m, scanners picked up reports of "lifeguards responding to a reported missing swimmer in Venice Beach. Section 3, Area 23, LR200. Dive 1 also on scene."
Live footage of the search was posted to our
Instagram Story
as it was happening.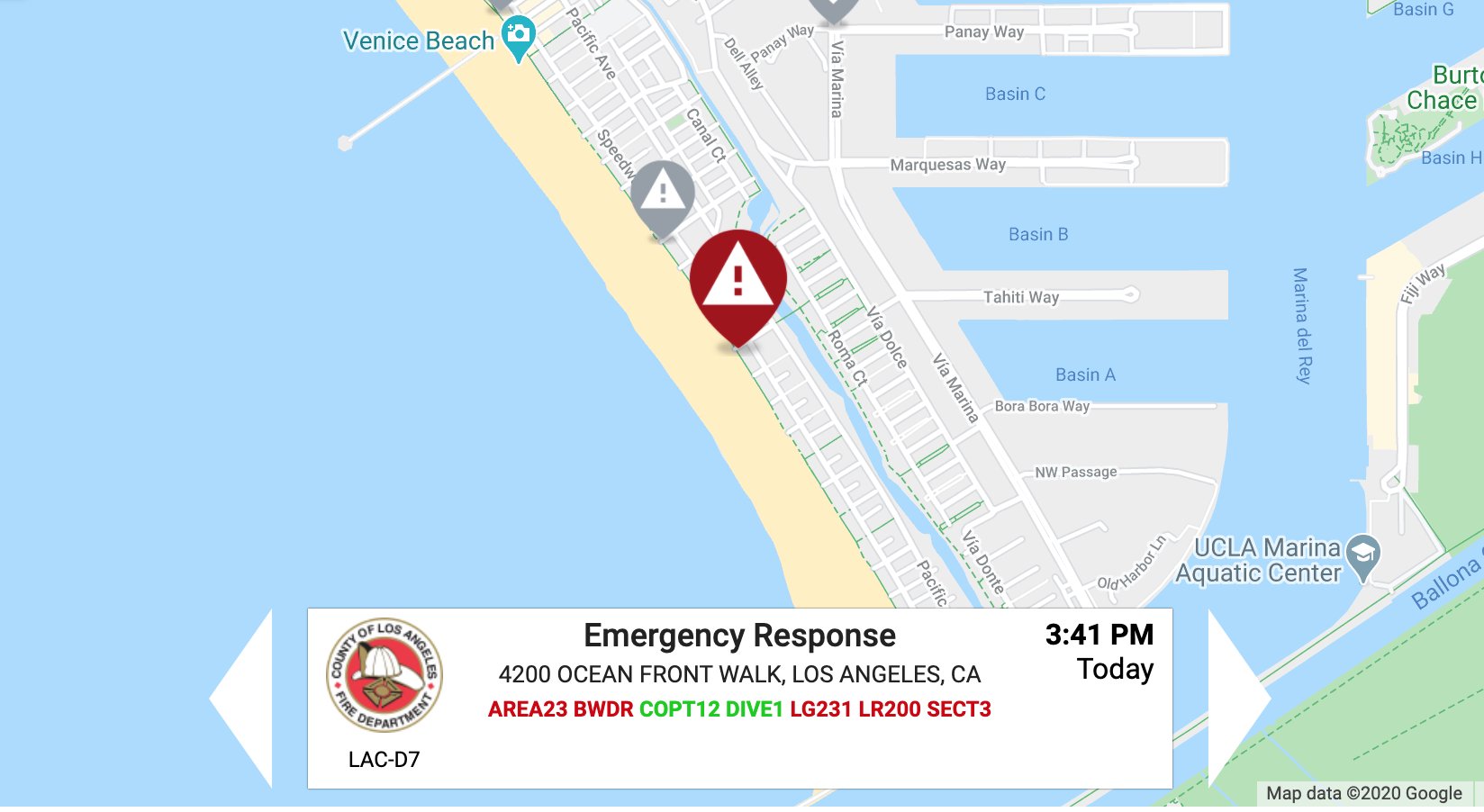 "Lifeguards are conducting Line Searches throughout the surf zone. Dive 1 is Conducting subsurface searches with support from Baywatch Del Rey. LA County Fire Air Ops Copter 12 is conducting an aerial search. Location is Ketch Tower in Venice Beach."
Statement from LA Fire Dept:
(LA County Lifeguards) requested LAFD medical support in their search for two reported missing swimmers. One 10yo male was located, evaluated and did not require transport to the hospital. LA County Lifeguard is leading the continuing search for the 2nd swimmer, reported to be the adult father of the 1st patient. LAFD is on medical standby only. All further questions are referred to LA County Lifeguards ; FS 63; Batt 4; West Bureau; Council District 11; E63 RA63; CH4; Margaret Stewart
The Coast Guard stated they "are currently searching for missing 39-year-old man off the coast of Venice Beach."
SECT3 reports the search for the missing person continues from the air, surface, and underwater. Water is 15-30' deep with a north facing lateral current at 4 mph. Swells still 5-6'
"There was a large rescue of 6+ people shortly before. I watched the whole thing, but still don't understand exactly what happened. It happened so quickly." commented witness Rhiannon Dourado.
*Update* As of 7:30PM subsurface searches have been suspended for the evening.
Lifeguards will continue periodic land based patrols throughout the area. Dive and Sonar search operations will resume at 7:00AM tomorrow.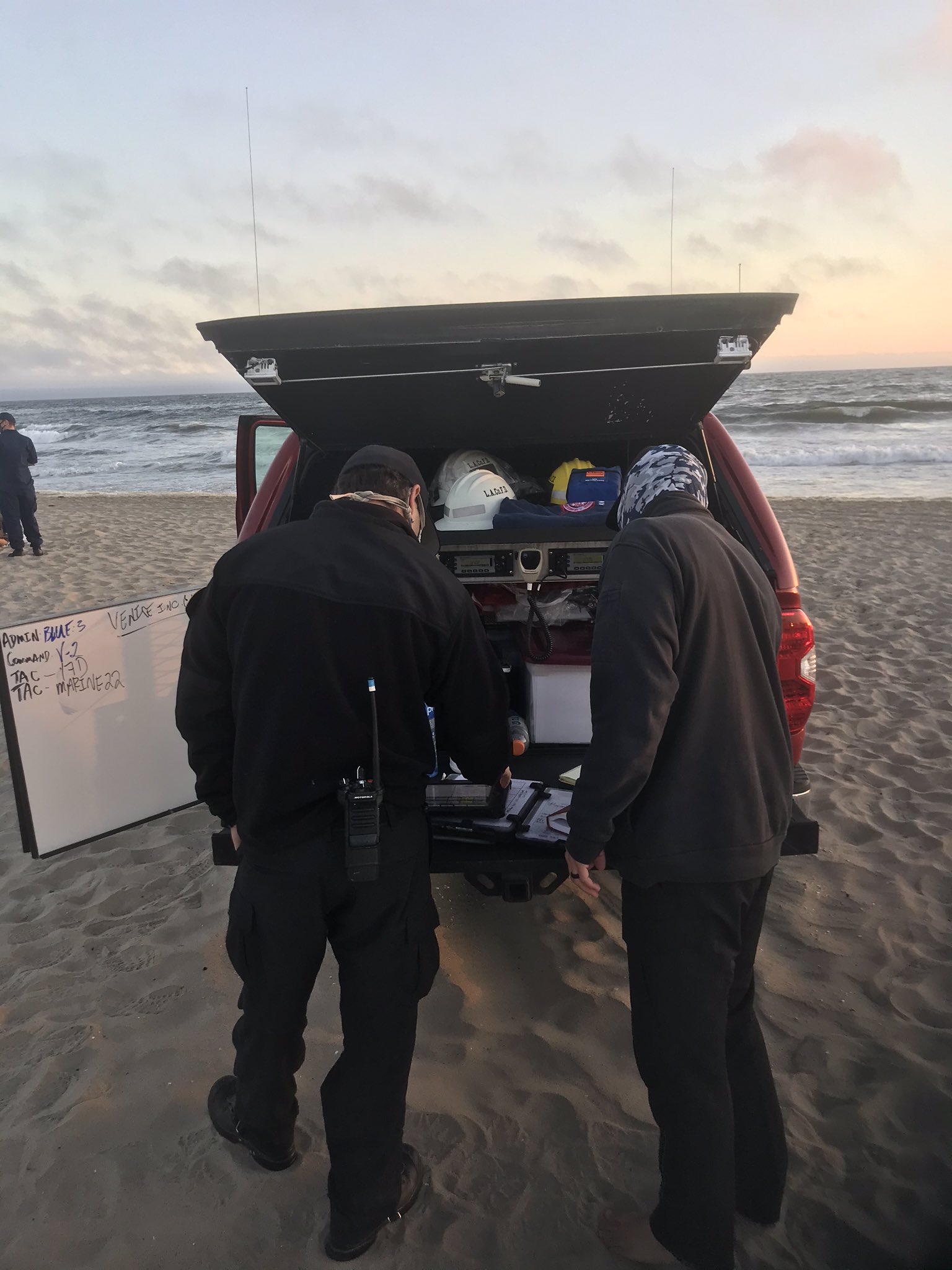 UPDATE 5-18-2020, 10:30 AM
Lifeguards resumed Sub-surface Dive operations at 7:00AM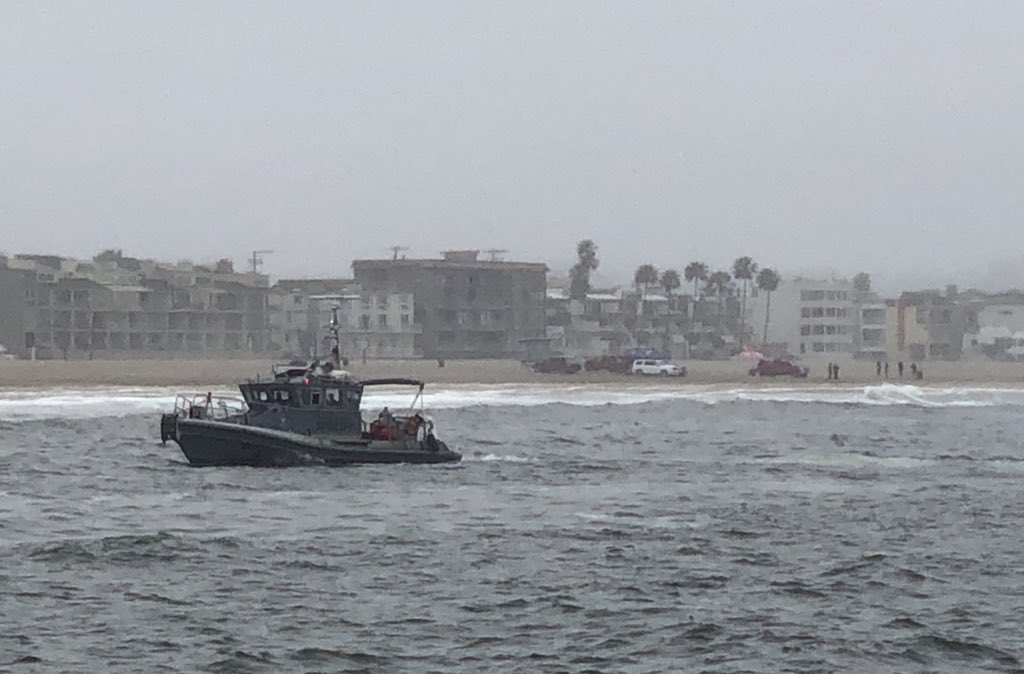 #VeniceIC *Update* @LACoLifeguards and @SEBLASD
resumed Sub-surface Dive operations at 0700. @LACoLifeguards Marine Technical Search Team is working with Baywatch Del Rey to conduct side scanning sonar of the area. pic.twitter.com/MQfg3NFjQU

— LACoFD Lifeguards (@LACoLifeguards) May 18, 2020
The missing swimmer is said to be Former WWE star Shad Gaspard, who is 39 years old. Gaspard was swimming with his 10-year-old son who was rescued and unharmed.
Gaspard's wife posted this to her Instagram story:
UPDATE 5-18-2020, 1:30 PM
Reports came in that at approximately 12:30PM, the search has been stopped.
"We had one of our lifeguards go out to make a double rescue of a father and a son. The father unfortunately got pushed down by a wave as they were getting pulled out of the current. The lifeguard rescued and grabbed the boy, the son, and tried to grab the father as well. He ended up getting pushed down by a wave and we couldn't find him and we immediately started with our rescue boats, called in additional lifeguards to search that location of his dad." - Kenichi Haskett, Los Angeles County Fire Dept Lifeguard Division.
UPDATE 5-18-2020, 5:00 PM
"Every effort will be made to locate this gentleman, he is somebody's family member, and we all have family, so we will not rest until we feel that every effort has been made to locate him," said Deputy Trina Schrader of the Los Angeles Sheriff Department Monday.
The Cove Skate Park's staff has been laid off, because of the City Of Santa Monica's "budget cuts". A petition has been started to bring back the park's experienced administrators, Rick Boisdeau and Brian Adams.
We understand the seriousness of the budget shortage and still we are asking that the Santa Monica City Council reconsider their decision to lay off highly experienced administrators of the Cove, notably Rick Boisdeau and Brian Adams. If the skate-park is re-opened with reduced hours and inexperienced staff it will create a safety risk as well as a serious blow to the community. Fees are currently very affordable and if increased could perhaps prevent these damaging cuts. Attendance at the park has steadily increased in the past year. As parents, coaches and skaters we are concerned that with shortened hours and inexperienced staff, once re-opened the skate park will lack the safety and enjoyment it has been known for.
It is impossible to overstate the value that Rick and Brian bring to the Cove. From a risk management perspective, they are highly experienced, competent, and knowledgeable about the sport of skating and can maintain safety through peak hours with high numbers of kids and adults at completely different skill levels. When beginners and intermediate skaters swamp the park area, crashes and injuries become more likely. For the safety of local and visiting skaters, it is important to maintain the excellent staffing from which we have benefited to date.
From a community perspective, Rick and Brian have made the park into an extraordinary place, a second home for many of us - it is no coincidence that attendance has increased under their watch. Rick has been instrumental in the success of the Cove Girls program, a twice-monthly girls-only skate session that has positively impacted the lives of so many girls. Brian, who outside the Cove is a teacher trained in Special Ed, teaches the kids to play chess and is always reading books, though typically his desk is busy with kids who want to chat with him. Rick and Brian both model sportsmanship, fairness, patience, and leadership. Our kids learn so much from them, in fact we all do - they are truly beloved.
Skating was once a rogue activity with origins here in LA; it is now an Olympic sport and recognized as one of the healthiest ways to develop resilience and brain activity. A recent article by Chris Lawton is one study among many outlining how skate parks contribute to the revitalization of urban space and provide important social and cultural benefits. For these benefits to be realized it is vital to maintain the sense of community, respect for the sport and each other that has flourished thanks to Rick Boisdeau and Brian Adams.
Please consider the impact to the safety, health and well-being of our community and
sign this petition
to help bring them back.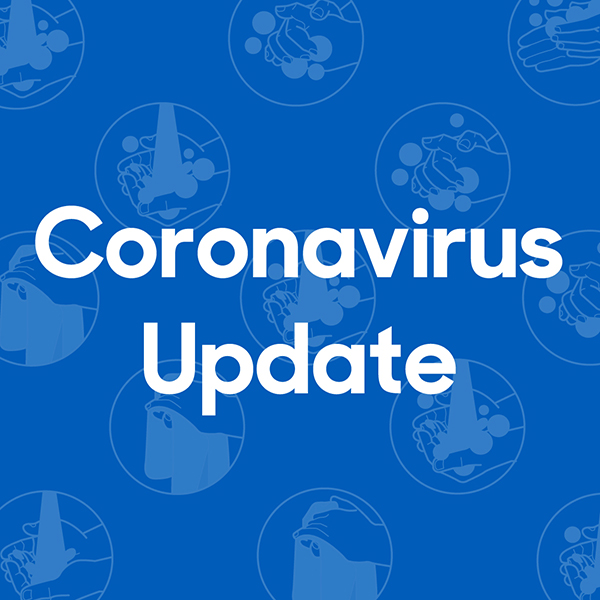 Today, Santa Monica Extends the Local Emergency to June 30 and Requires Face Coverings for Outdoor Activities (except water activities). here's the city's press release:
"Today, Interim City Manager and Director of Emergency Services Lane Dilg issued a fourteenth supplement to Santa Monica's local emergency, extending the declaration of local emergency and all associated orders to June 30, 2020. The supplement also requires cloth face coverings for all permitted outdoor activities, except water activities. Children under two and individuals who have breathing difficulties, are unable to remove a cloth face covering without assistance, or have a disability that prevent the use of a cloth face covering are exempted from this requirement, but must comply with all other social/physical distancing requirements. This aligns with Los Angeles County's revised Safer at Home Health Officer Order and a similar order from the City of Los Angeles issued yesterday."
Here are additional updates Santa Monica residents should know:
Tennis courts are allowed to reopen for singles play. This weekend, the tennis courts at Reed Park will be available to residents with additional openings in the weeks ahead. All parks will be open, including Palisades Park, for safe outdoor recreation. Street sweeping will resume in neighborhoods beginning June 1 and will continue on a monthly schedule, beginning the first full week of every month. Follow posted street signs.
Physical distancing remains a requirement along with cloth face coverings whenever you are outside your home. Please comply with physical distancing requirements posted by businesses and recreational facilities.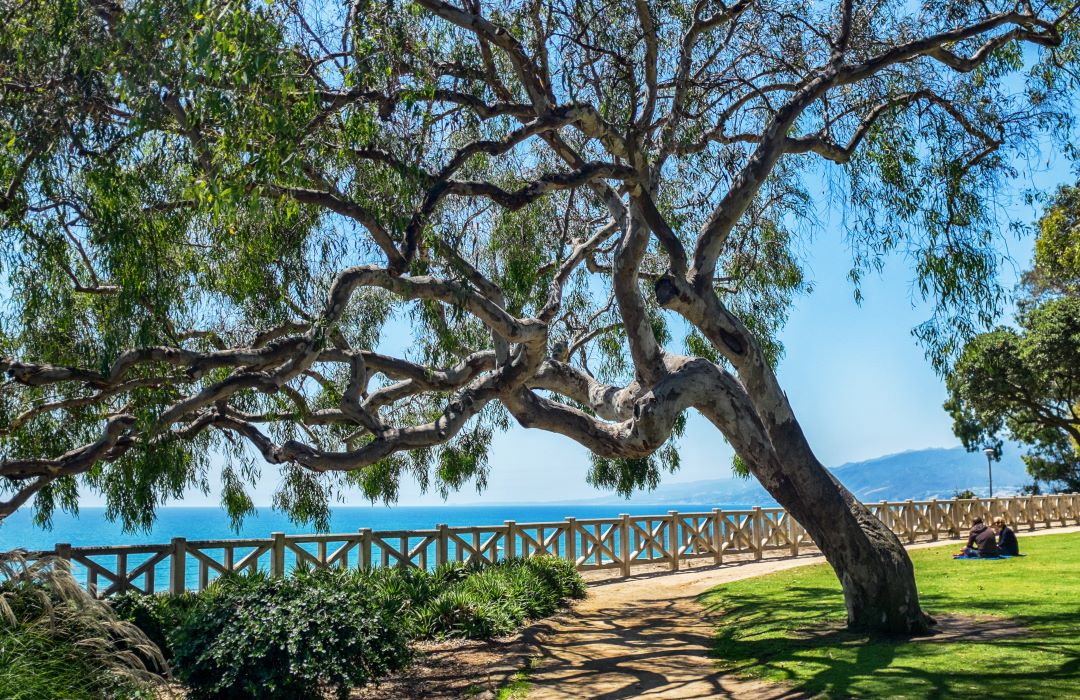 For more of our coverage of the Coronavirus lockdown, closures, and how our local surf community and businesses are doing,
CLICK HERE
On Friday, the
Air Force Thunderbirds
will do a flyover in salute to California healthcare workers, first responders and other essential personnel on the front lines of the fight against the coronavirus. Their Los Angeles flyover becoming from downtown down the 10 freeway and along Venice Blvd to the beach, and then down coast to Manhattan Beach, over Torrance to Long Beach, then down the coast again to Newport Beach. All this will happen between 1:35PM to 2:10PM. See the flight path below: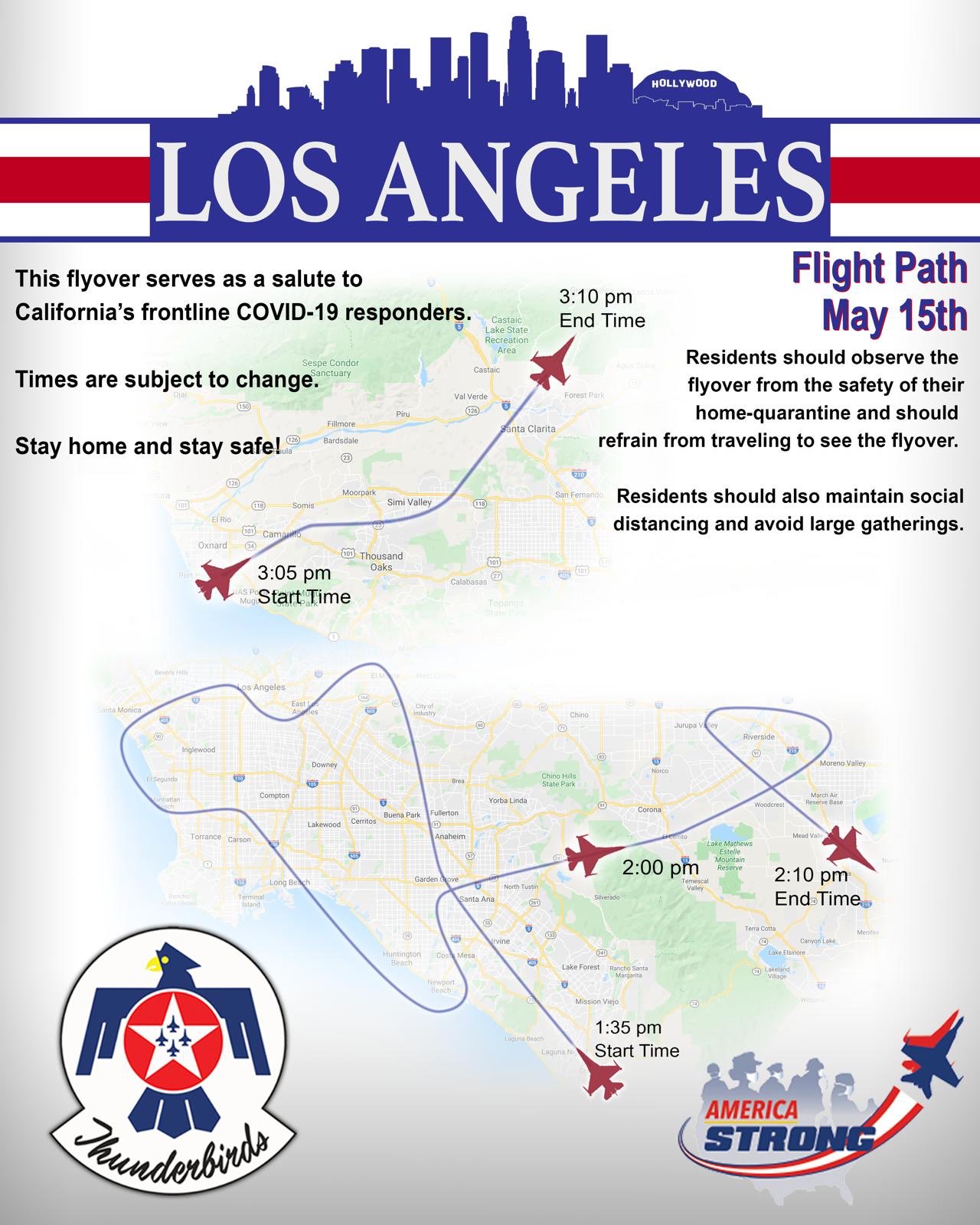 Surf Therapy dog
Haole Boy
passed away today.
Haole served as the Ambassa-dog of his community, and the non-profit
A Walk On Water
, which provides Surf Therapy to children and adults with special needs. He started surfing later in his life (at the age of 5) when he "told" his parents he wanted to surf by climbing on his Dad's surfboard. Haole is a retired surf-dog competitor, whose main focus is sharing his love and comfort of surfing with others.
A Walk On Water posted:
Our beloved AmbassaDog,
Haole Boy
, left this earth today after a long and brave battle with cancer, but we know that he will live on in all of our hearts forever.
No one who witnessed Haole on a wave could possibly forget that image of grace and athleticism. More than a dog who could surf, Haole was a Surf Therapist in the truest sense of the word. Haole loved to volunteer at AWOW Surf Therapy events with his pawrents John and Kim Murphy. He took his "work" seriously, and we all witnessed him changing the lives of countless children in need.
Haole's immense courage empowered countless AWOW athletes, who found the confidence to paddle out just by seeing him in the lineup. He was a calming and kind force on the beach as well, often turning tears into smiles. He created moments of peace, love, laughter, and joy at every event. He will be missed beyond measure.
Today we all grieve together as a family. We can't yet set a date for when we might gather to celebrate Haole's inspirational life because of the pandemic. As soon as the situation permits, though, we will announce memorial plans.
In the meantime we wanted to give our AWOW Family a way to express their feelings. If you'd like to draw a picture or share a short personal handwritten note to capture your memories of Haole, please mail them to us so we may incorporate them into a memory book for Haole's family.
A Walk On Water
‪526 Victoria Ave
‪Venice, California 90291‬
For now, we take comfort in knowing that Haole is smiling down on us as he catches wave after perfect wave.
Haole's website:
Haoleboylife.com
Due to the huge increase in surfers' vehicles getting broken into along PCH, LAPD put out this flyer back in December:
Now that word is out the beaches are open, the thieves are going to return.
Our photographers have watched first hand these pieces of shit casing vehicles at surf spots such as Sunset, Topanga and the spots in Malibu. But unless caught in the act, police will do nothing. Hell, now due the coronavirus, even if caught in the act, the scumbag city officials have told the police not to arrest anyone, so the city has made it more enticing for those a-holes to keep stealing from everyone.
So
do not hide you keys on your tires or under the car
. These pieces of trash sit in vehicles and watch. Others slowly walk along the park cars looking for the keys.
Yeah, we seen a number of surfers hiding the keys under their vehicles this past weekend.
At least, get a good
key lockbox
to deter these assholes.
On Sunday at about 10:00AM, we captured on our Instagram Story what appeared to be a shark swimming near Sunset.
Here's the photos shot by
Six12 Media
, unfortunately, it was too far out to get a clear up close shot of it.
After seeing the photos, it might not have been a shark.
On Instagram,
@ouana
pointed out that it may be a
mola mola (ocean sunfish)
.
a Mola mola off the coast of Southern California. Photo: Bradley Beckett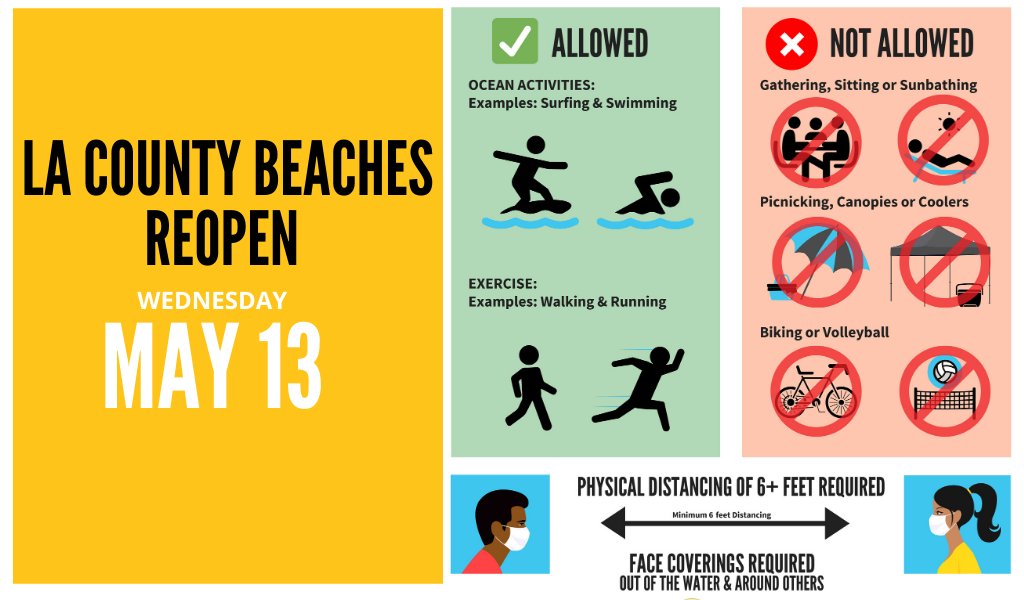 "Surf's up! LA County beaches are reopening this Wednesday, May 13 for individual activities like swimming, surfing, jogging, and walking."
"LA County Beaches are reopening this Wednesday, May 13 for individual activities like swimming, surfing, jogging and walking."
Los Angeles County Supervisor Janice Hahn
announced today.
LA Beaches & Harbors
confirmed the opening:
On 5/13, LA Co. beaches reopen w/ the following rules:
• Individual/family activities & exercise ONLY
• No lying or sitting on sand, canopies, coolers or picnicking
• 6+ ft. physical distancing & masks REQUIRED
• Parking lots, bike path, piers & boardwalks remain CLOSED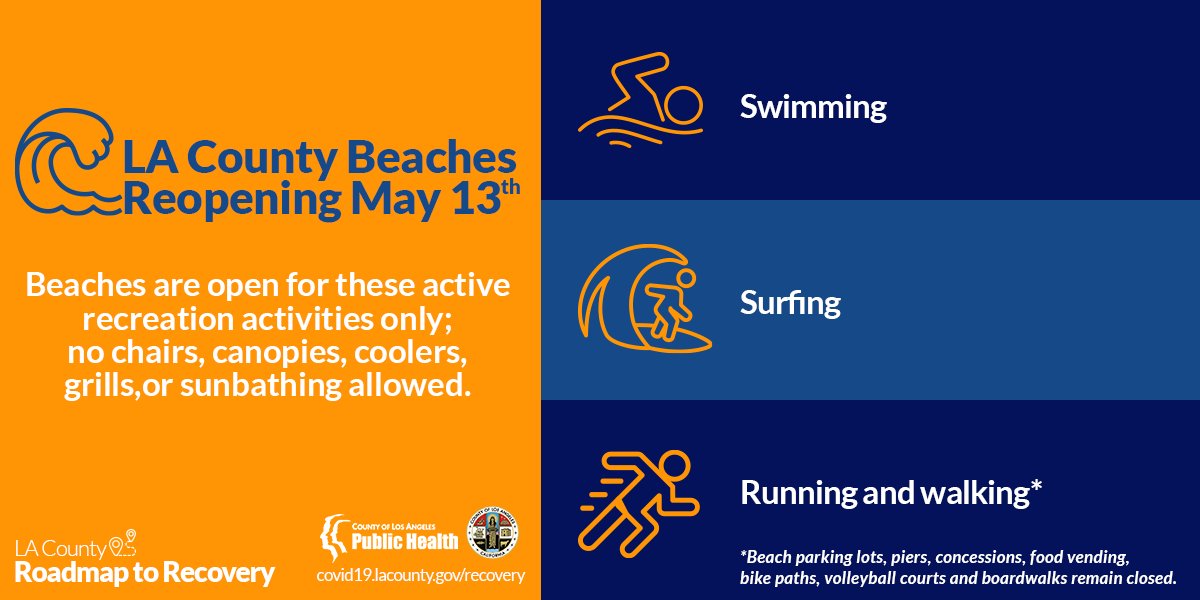 But take note, these city officials don't agree with each other on this, so one of them might cock block this decision. Also, Malibu said it's beaches are different than those down south, so they may nee additional time to set health guidelines before they open.
Around 5:00PM, Santa Monica has agreed to open their beaches via their social media accounts:
"Santa Monica beaches will reopen this Wednesday, May 13 for ocean activities and exercise with restrictions - specifically NO gathering, sitting & sunbathing."
For more of our coverage of the Coronavirus lockdown, closures, and how our local surf community and businesses are doing,
CLICK HERE
According to Surfline, "Monday, May 11th: SSW/S swell puts well exposed spots in 4-5′ waves, sets up to 7′ at best breaks. Smaller NW swell eases. Light early morning winds due, moderate onshores by the afternoon. "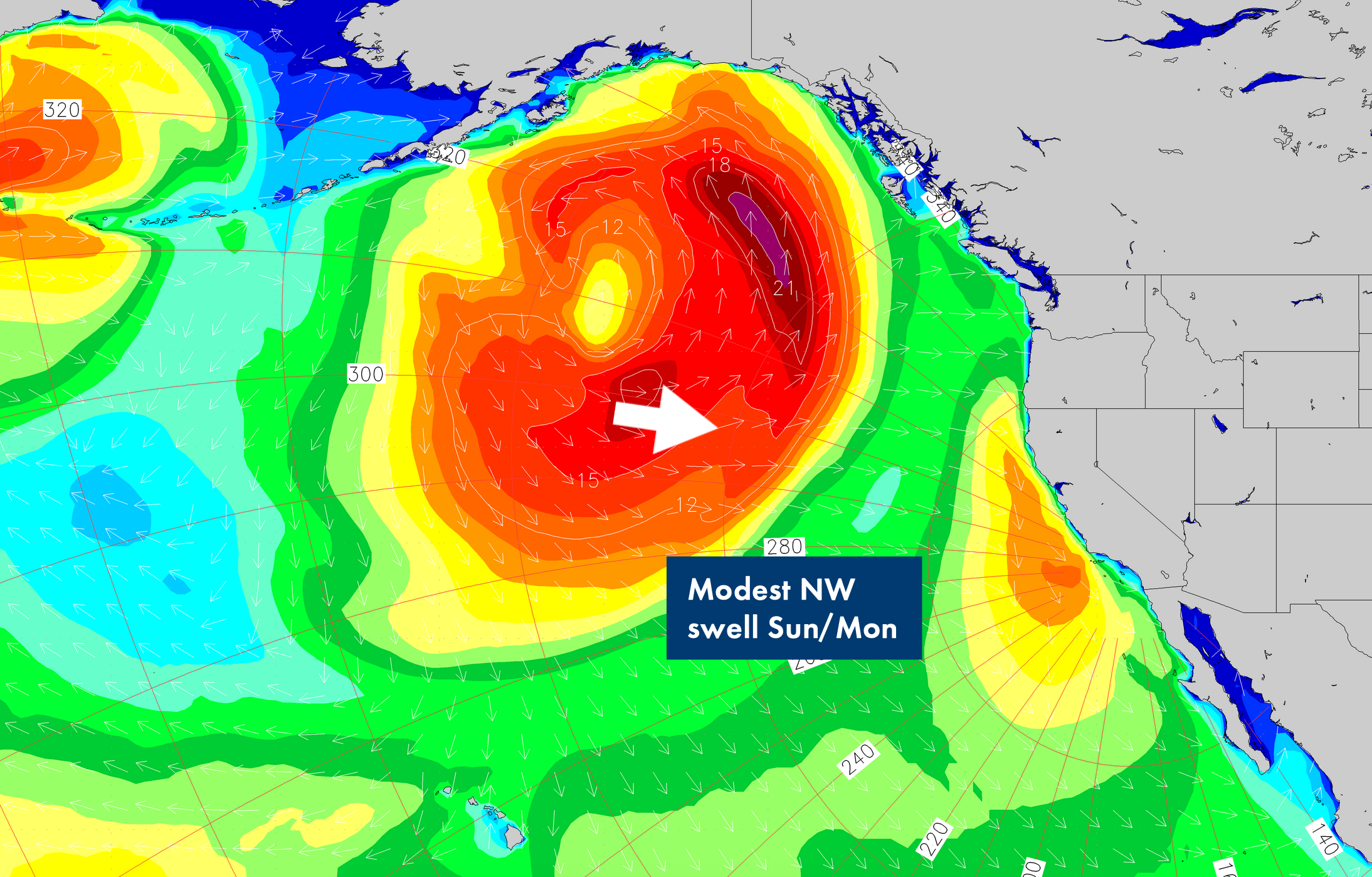 "Holding SSW/S (200-180) swell maintains chest-head high+ surf at good exposures in North LA. Easing, secondary NW pulse is mainly running thigh-waist high at exposures. Combo beachbreaks that pull in that swell blend will see some fun peaks. Light early morning winds due to turn to rising onshores later morning then mainly moderate WNW flow for the afternoon."