8:54 PM - 0 Comments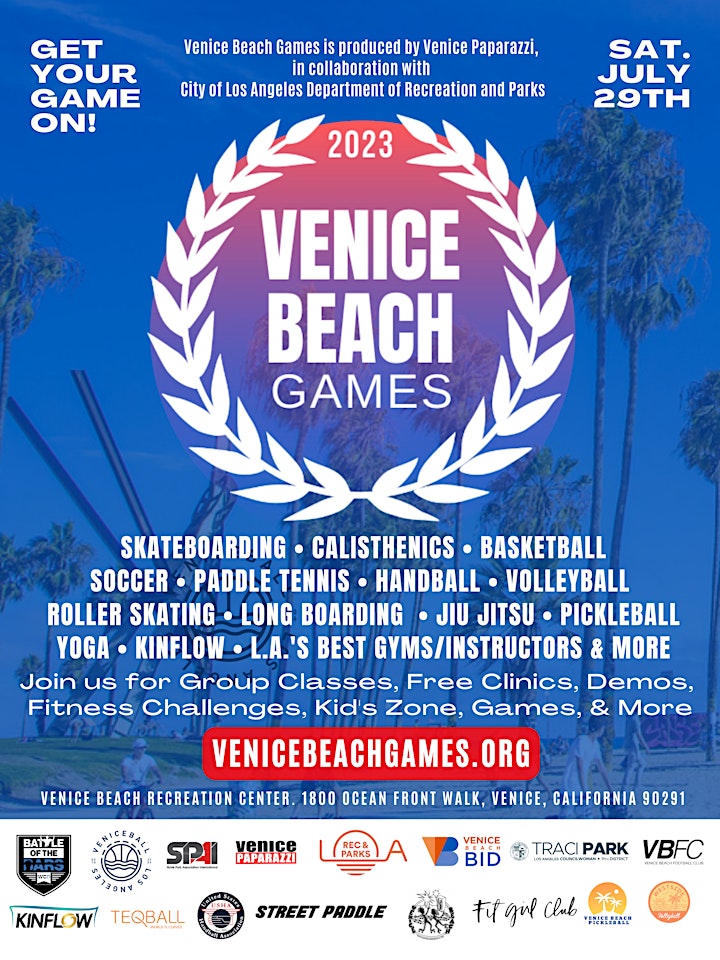 The Venice Beach Games is a sun soaked celebration of sports and fitness in the world's greatest beach front recreation center.
The entire park and its glorious amenities are full of organized activity put on by the fantastic groups of people playing here. It is a day where the public can join 25+ sports groups running free activities, clinics, contests, games, and tournaments. Our Fitness Village and Main Stage also facilitate guest interaction with the best in local gyms, group workouts, personal training, athletic brands, recovery, nutrition, and more.
The Venice Beach Games is Venice Beach's premier summer sports festival. With thousands of participants and tens of thousands of spectators, it is not to be missed.
Date: Saturday, July 29, 2023.
Time: 9:00 a.m.- 4:00 p.m.
Admission: Free
Who can participate: You can! And everyone else too!
Location: Venice Beach Recreation Center.
1800 Ocean Front Walk. Venice, California 90291
The 2023 event will included:
- Battle of the Bars presented by World Calisthenics Org.
- Calisthenics Reps competition by United Nation of Gains
- Skate park competition: snake run, big bowl, highest ollie by Skateparks Intl.
- Fitness Zone with local gyms hosting workouts and challenges including: Camp L.A., and Deuce
- Muscle Beach Stage group fitness classes with Fit Girl Club featuring Camp L.A.
- Martial Arts grappling area with wrestling by Mat Monsters
- Jiu Jitsu by Rey Diogo and Ocean Grown
- Sambo by Justin
- Boxing Classes by Box Union and Santa Monica Strikers
- Capoeira clinic and demo
- Soccer clinics and organized games by Venice Beach Football League
- Handball tournament by USA Handball
- Paddle tennis clinics and tournament by Street Paddle and Pop Paddle
- Pickle ball clinics and tournament by Venice Pickle Ball
- Beach volley ball games by Westside Volley Ball
- Basketball clinics and games and dunk contest by Venice Ball
- All Wheels Welcome Jam: Long board, flat land, scooter, blades, and more, competition, lessons, and open dance jam
- Roller Skating open dance and lessons with Venice Beach Skate Dance Assoc.
- Kids Zone with arts and crafts, featuring Sunny Side Chalkers
- Beach clean up contest by Venice Community Cleanups and Spogomi.
- Ping Pong with Venice Pong Club
- Teq Ball area with Legacy Teq Ball
- Vendor village and resource fair
- and more!
For more info,
Click Here