8:35 PM - 0 Comments
Santa Monica ripper, Cove kingpin and Zephyr Team alumni passes away with early Alzheimer's at 66.
So young, it seemed, for a guy whose energy and smile seemed to light up any spot he chose to surf. As a top dog on the fabled Zephyr Team, Ronnie held down the Santa Monica surf scene during the 1970's with a dynamic blend of exceptional ability and unquestioned authority, especially when it came to some of the more localized breaks like the old P.O.P. Pier, where he virtually ruled The Cove. Yet there was nothing dark about Ronnie's presence in the water or on land. Stacy Peralta, a junior Zephyr Team member at the time, remembers Ronnie's impact:
"Ronnie wasn't just the hottest guy around, he was an inspiration. He lifted our entire beach every time he went in the water. And not just by how good he was, but with his spirit, with his sense of humor."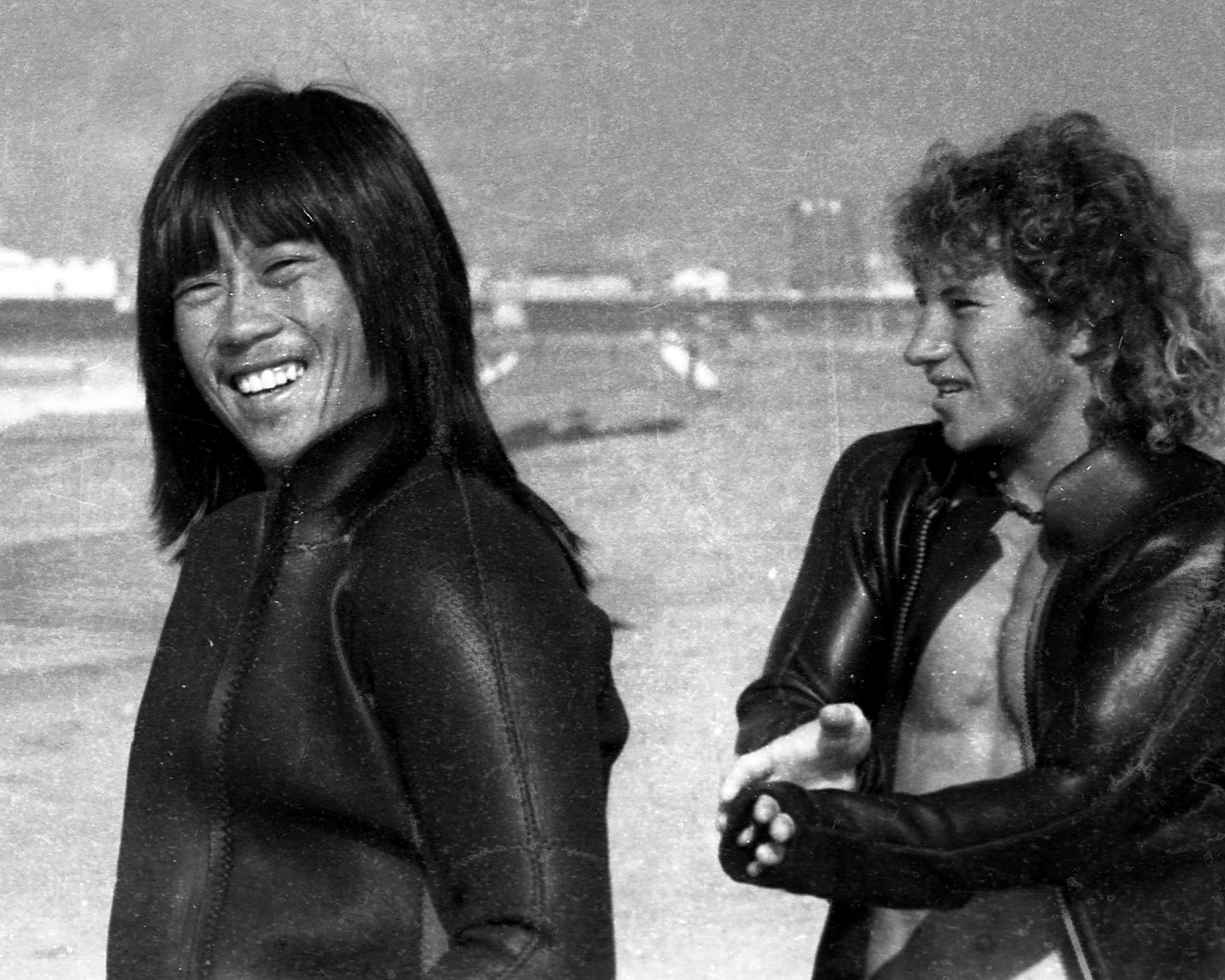 L: Jeff Ho. R: Ronnie Jay. Photo: Dana Woolfe
An electrician by trade, in a different era Ronnie's power-hungry surf style might have led him down another path.
"He was a really, really good surfer," says Peralta. "In this day and age he probably could've had a career as a pro. But he was ahead of his time in his thinking. Back in the mid-'70s, I got sponsored to go to Australia for the first time as a pro skateboarder. And I remember Ronnie coming to me and saying, "You're getting an opportunity guys like me never got. You've got to respect that. Other guys might go down there and throw TVs out hotel windows, but not you. Respect it, and remember that you're representing us."
Ronnie Jay continued to surf hot, continued to be the local's local, even when he began showing troubling symptoms of early-onset Alzheimer's Disease. Though his cognitive abilities waned, his interest in surfing never did — the sands and waves of his youth providing a constant touchstone right up until the end.
"Whenever you walked into Jeff Ho's Surf Shop in the 70's, Ronnie was easily recognizable with his high pitch voice and his friendly demeanor." recalls Robert Terris. "You knew you were at a special place in a special time. Some guys in the shop had ego's but not Ronnie you could easily talk to him about board design with their surfboards on display for sale. I got to surf with him several times in my late teens and early twenties at Bay St. And I also had Ronnie in my same heat in a Pacific West Surf Contest down at Bay St in the early 80's. I'll always remember Ronnie and the other's hanging in the Jeff Ho Surf Shop talking Story and drinking Carrot juice in the mid 70's not to many other's were into health foods like those guy's were in the 70's. I will miss Ronnie's friendly smile ingrained into my memory. Aloha Ronnie you belonged to a golden age of Surfing's past."
Ronnie's ashes will be returned to the waves he loved at a small memorial to be held at Topanga Point on July 1st, 2018.