5:43 PM - 0 Comments
Hurricane Fabio has intensified within the SoCal swell window today. We are seeing latest winds of 90kts with gusts up to 110kts. The track has been generally ben to the WNW, picking up see to around 13kts over the past 6 hours. We are starting to see swell fill in for Baja. Swell from this will start to impact SoCal over the back half of the week.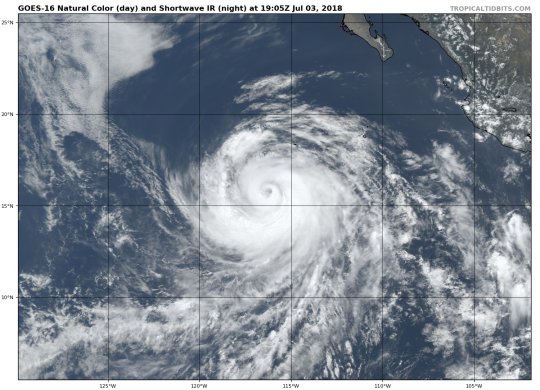 Visible satellite imagery is showing a better developed storm with the eye becoming more clear over the last couple of hours. This may allow Fabio to intensity just a little further, but the storm is nearing peak intensity. Fabio is just on the leading edge of cooler ocean waters and oceanic heat content. This is going to result in rapid weakening of the storm as it continues to track WNW/NW over these cooler waters and stable environment.
Storm force winds extend outwards 140NM from the center of the storm on the east side in the SoCal swell window. We have seen vigorous convection in this area which usually means we are seeing a good amount of winds mixing down to the ocean surface which is good for swell generation. To give that some perspective, the very large Hurricane Marie in 2014 had an estimated south to north fetch on its eastern flank of 500 miles. So while Fabio is smaller, it's still a good size storm and the largest we have seen this season.
The final piece of the puzzle for tropical swell is shaped by the storm's track. For Southern California and Baja we see the largest swell when storms take a northward track toward us at a slow pace (10 knots or less). Fabio is a bit mediocre in this department and has been on a WNW to NW track in the 9-13kt range over the past 24-36hrs. With the vast majority of models in strong agreement on Fabio's track, we're of high confidence on this aspect of Fabio.
One other factor that is somewhat related to track is Fabio's location. The storm is a bit further south than the average swell producing tropical cyclone by perhaps 200 miles. This will lead to at least slightly greater swell decay and slightly smaller surf than a storm that is closer.
For Southern California surf we'll look for a building/peaking trend for the second half of the upcoming week, with potential for solid surf at the breaks that can pick up the extreme angled SE to SSE swell (Orange County, parts of LA and Southern Ventura and a few select other breaks).