8:15 PM - 6 Comments
Here's an official and an "unofficial" update on the
Woman Found Beaten And Left For Dead At The Venice Pier
story we ran on Tuesday and that was seen on our
Instagram Story
.
First the official update, the Los Angeles Police Deptartment is calling this a sexual assualt. The victim was found laying on the ground outside of the restroom located on Ocean Front Walk and Anchorage Street in Venice Tuesday morning around 6:45 a.m.
LAPD said that the victim was suffering from severe head trauma and was naked from the waist down. The victim's wallet, purse, iPhone and vehicle have not been located. The missing vehicle is a gray 4-door 2011 Ford Escape with Arizona license plate CPL5138.
They release this Crime Notice asking for help locating the victim's vehicel.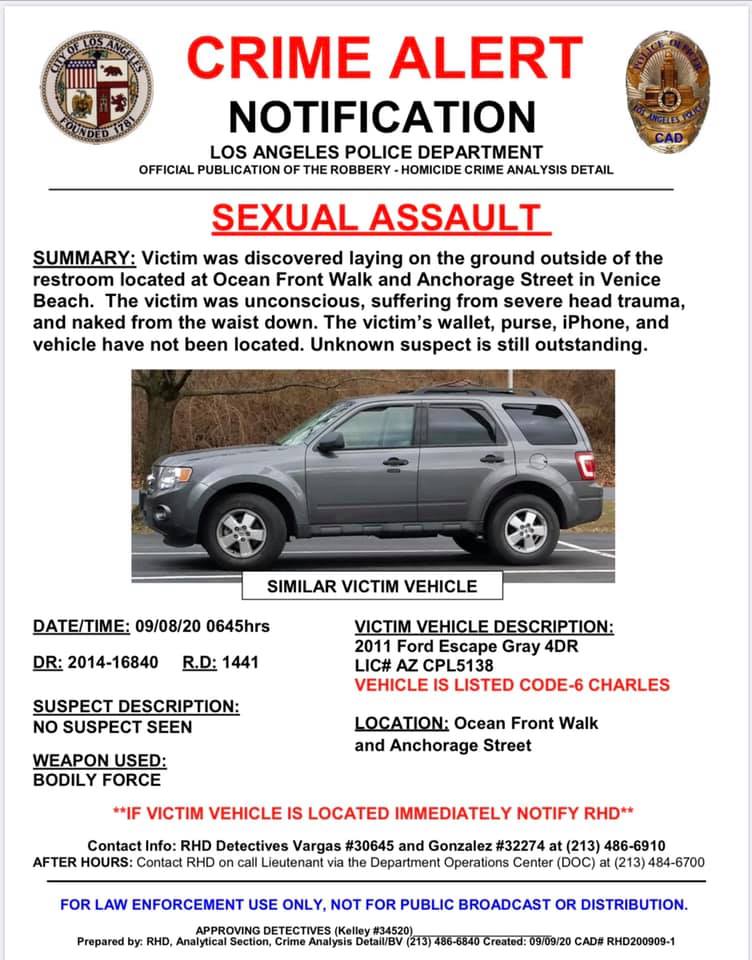 Now the "unofficial" update, we gathering some info from some of the locals:
The woman sexually assualted is said to be a 29 year old college student/graduate.
The attack may have started behind the Arbor store, and ended at the restrooms just south of pier, where she was further beaten, then dragged to the backside of the restrooms and left for dead.
Security camera footage from the local businesses captured some of the event and are being reviewed.