8:35 PM - 0 Comments
A stretch of Santa Monica Beach that was once a gathering place for black Angelenos could find a spot on the National Register of Historic Places. That's the goal of black heritage activists who are gearing up for their next step in the drive to designate the 55-acre site near the end of Pico Boulevard once derogatorily known as "The Inkwell."
By Jorge Casuso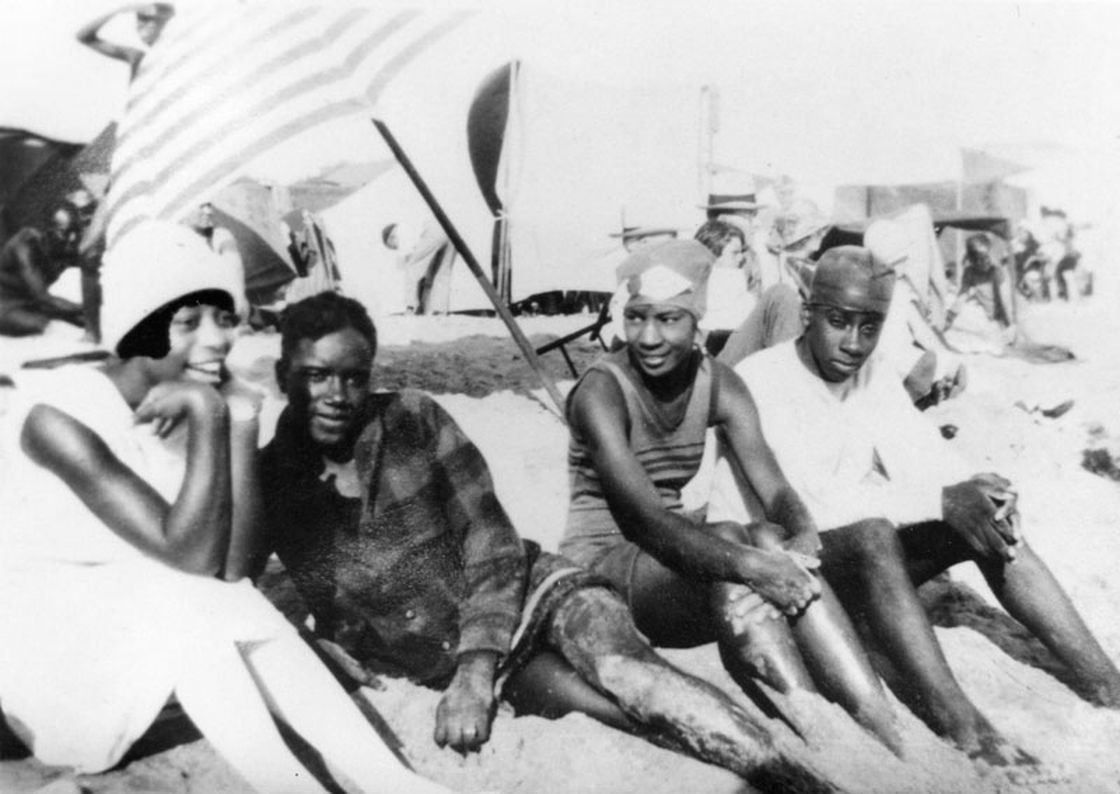 From left: Grace Williams, Albert Williams, Mary Mingleton, Willie Williams (no relation) in the segregated section of Santa Monica beach known as the Ink Well ca. 1926 (Shades of L.A. Collection, Los Angeles Public Library)
A stretch of Santa Monica Beach that was once a gathering place for black Angelenos could find a spot on the National Register of Historic Places.
That's the goal of black heritage activists who are gearing up for their next step in the drive to designate the 55-acre site near the end of Pico Boulevard once derogatorily known as "The Inkwell."
On May 8, California's State Historical Resources Commission will review the nomination at its quarterly meeting in Palm Springs, activists said.
The Bay Street Beach Historic District, according to a draft of the National Register application, is "a rare example of an African American seaside recreation and leisure site as well as a community cultural focusing point."
Alison R. Jefferson, a prominent black historian who is co-sponsoring the application, said the designation makes "the history of the African American experience in the region more visible."
She is urging supporters to help by writing letters backing the nomination that are due on Tuesday, April 23. For instructions
click here
.
The designation -- which "aligns with the goals" of the California Coastal Commission's landmark environmental justice policy adopted in March -- provides "a little more symbolic equity and social justice for all," Jefferson said,
The nomination's co-sponsor, Sea of Clouds, a nonprofit that focuses on preserving coastal places, says "The Inkwell" represents a part of the Jim Crow era that should not be forgotten.
"As much as beach recreation and sport are indelible parts of California's identity, so too must be its history of exclusion in these public spaces," said Michael Blum, the organization's executive director.
"A National Register listing will work in service of the personal stories, remembrances, and connections to the Bay Street beach area, as it sits within a changing city, coastline, and climate."
The Bay Street Beach Historic District became an extension of Santa Monica's black community and a destination for blacks living in Los Angeles shortly after the turn of the 20th Century.
The "period of significance" begins in 1908 when the Phillips Chapel Colored Methodist Episcopal Church building was purchased from the Santa Monica School District and relocated to the corner of Fourth and Bay Streets, according to the application.
The church became "an anchor for local African American spiritual and community life," the application said.
Soon, the beach just four blocks away became a haven for black beachgoers, who "faced exclusion, harassment, even violence" in other coastal areas.
The period ends in 1965 with the passage of the federal Voting Rights Act (VRA), which along with the Civil Rights Act of 1964, ended "an era of de jure discrimination and segregation," the application said.
If the Bay Street Beach Historic District makes it on to the National Register, it would join an estimated 8 percent of the 93,000 properties and 1.4 million individual resources that represent women and minorities
The designation would help to better represent "the breadth of the American story," Jefferson said.