7:34 PM - 0 Comments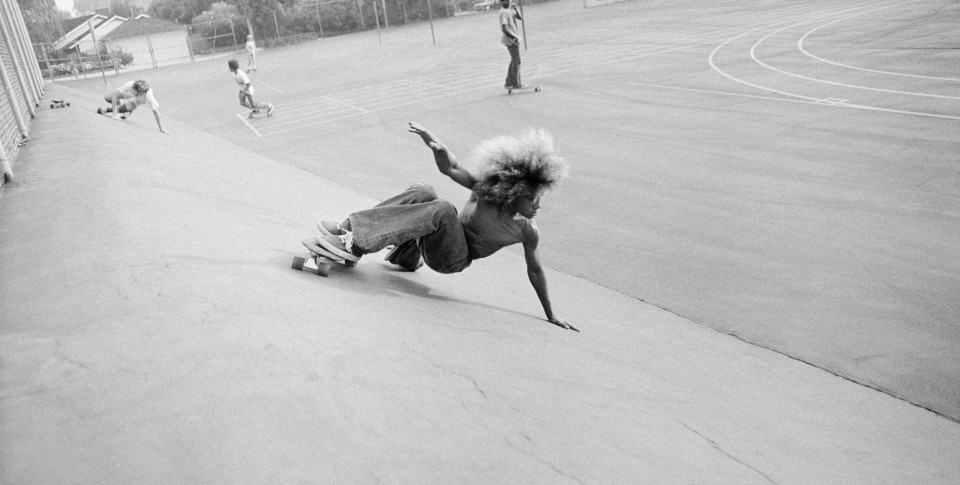 M+B
is pleased to announce Silver. Skate. Seventies., an exhibition of black and white photographs by Hugh Holland on the occasion of the release of his latest monograph published by
Chronicle Chroma Books
. The exhibition includes never-before-seen photographs from Holland's archives, including some of his earliest photographs documenting the rise of the Southern California skateboard revolution in the 70s. The exhibition runs from October 19 to November 9, 2019, with an opening reception and book signing on Saturday, October 19 from 4 to 7 pm.
Having spread from its roots as a small counter-culture activity, skateboarding has now permeated society, leaving its footprint on global culture. Initially considered an anarchic form of self-expression practiced by a small band of outcasts, skateboarding exploded on the west coast of America in the late 70s and 80s coinciding with the emergence of US punk rock. Beginning in 1975, photographer Hugh Holland masterfully captured the burgeoning culture of skateboarding against a sometimes harsh, but always sunny Southern California landscape. These iconic images were first inspired on a late afternoon when Holland drove up Laurel Canyon Boulevard and encountered skateboarders carving up the drainage ditches along the side of the canyon. From suburban backyard haunts to the asphalt streets that connected them, Los Angeles was the place the birthplace of the legendary
Dogtown and Z-Boys
skateboarders. With their requisite bleached-blond hair, tanned bodies, tube socks and Vans, these young outsiders evoke the sometimes reckless, but always exhilarating origins of skateboarding culture.
In
Silver. Skate. Seventies.
, Hugh Holland presents a raw, spontaneous understanding to his well-known color photographs of the 1970's skating scene. Holland shot these negatives while experimenting with new ideas, and often, for his own enjoyment. These early black and white images were in many ways the genesis for his later color works—providing us with a rare glimpse behind the creative curtain.
M+B.
612 North Almont Drive
Los Angeles, California 90069
T 310 550 0050

Want to buy the book?