8:15 PM - 0 Comments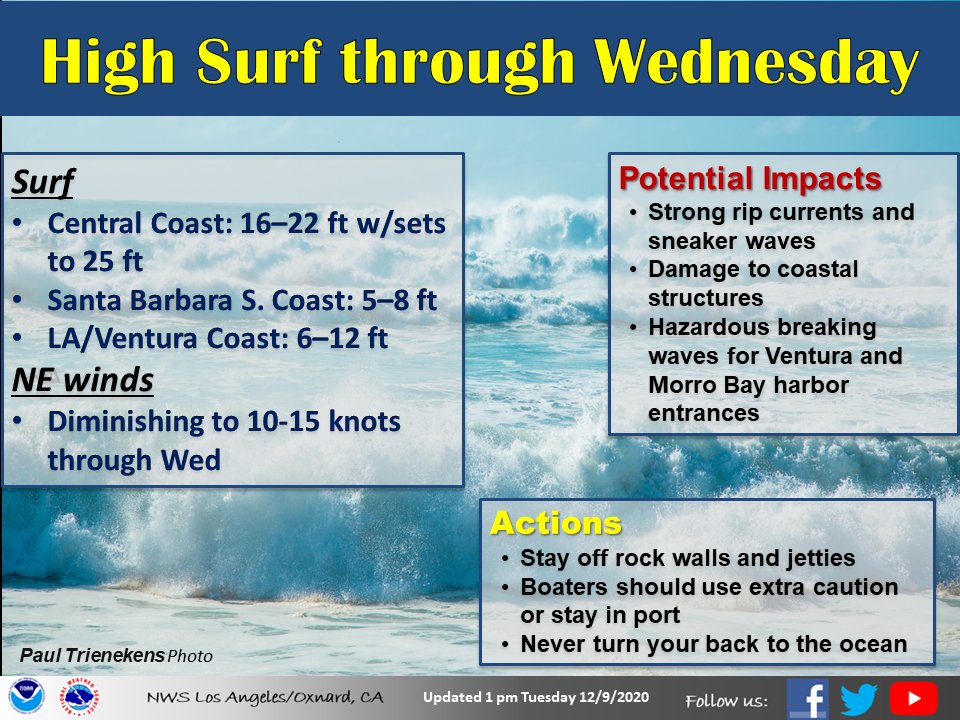 A High Surf Advisory has been issued by the
National Oceanic and Atmospheric Administration
:
Alert:
...HIGH SURF ADVISORY REMAINS IN EFFECT UNTIL 9 PM PST WEDNESDAY...
* WHAT
...Large breaking waves of 6 to 10 feet with local sets to 12 feet through tonight. Surf will lower to 5 to 8 feet by Wednesday morning. Expect continued dangerous rip currents.
* WHERE
...Los Angeles County Coast and western shores of Catalina and Santa Barbara Islands.
* WHEN
...Until 9 PM PST Wednesday.
* IMPACTS
...There is an increased risk for ocean drowning. Rip currents can pull swimmers and surfers out to sea. Large breaking waves can cause injury, wash people off beaches and rocks, and capsize small boats near shore.
* ADDITIONAL DETAILS
...Surf will be highest on exposed west facing beaches. Short period northeast wind waves of 3 to 6 feet will create hazardous conditions near northeast harbor entrances such as Avalon and Two Harbors on Catalina Island through this evening. The surf will begin to slowly subside tonight through Wednesday. It will still be elevated early Thursday though below advisory criteria.
Instructions:
A High Surf Advisory means that high surf will affect beaches in the advisory area...producing localized beach erosion and dangerous swimming conditions. Swim near a lifeguard. If caught in a rip current, relax and float. Don`t swim against the current. If able, swim in a direction following the shoreline. If unable to escape, face the shore and call or wave for help.