7:42 PM - 0 Comments
America, it's time to go back to WAR. The legendary band out of Long Beach first started the rocking the streets of Southern California in 1971. In 2021, the group behind such timeless hits as "Why Can't We Be Friends?" and "Low Rider" are set to celebrate fifty years of righteous rock 'n' roll.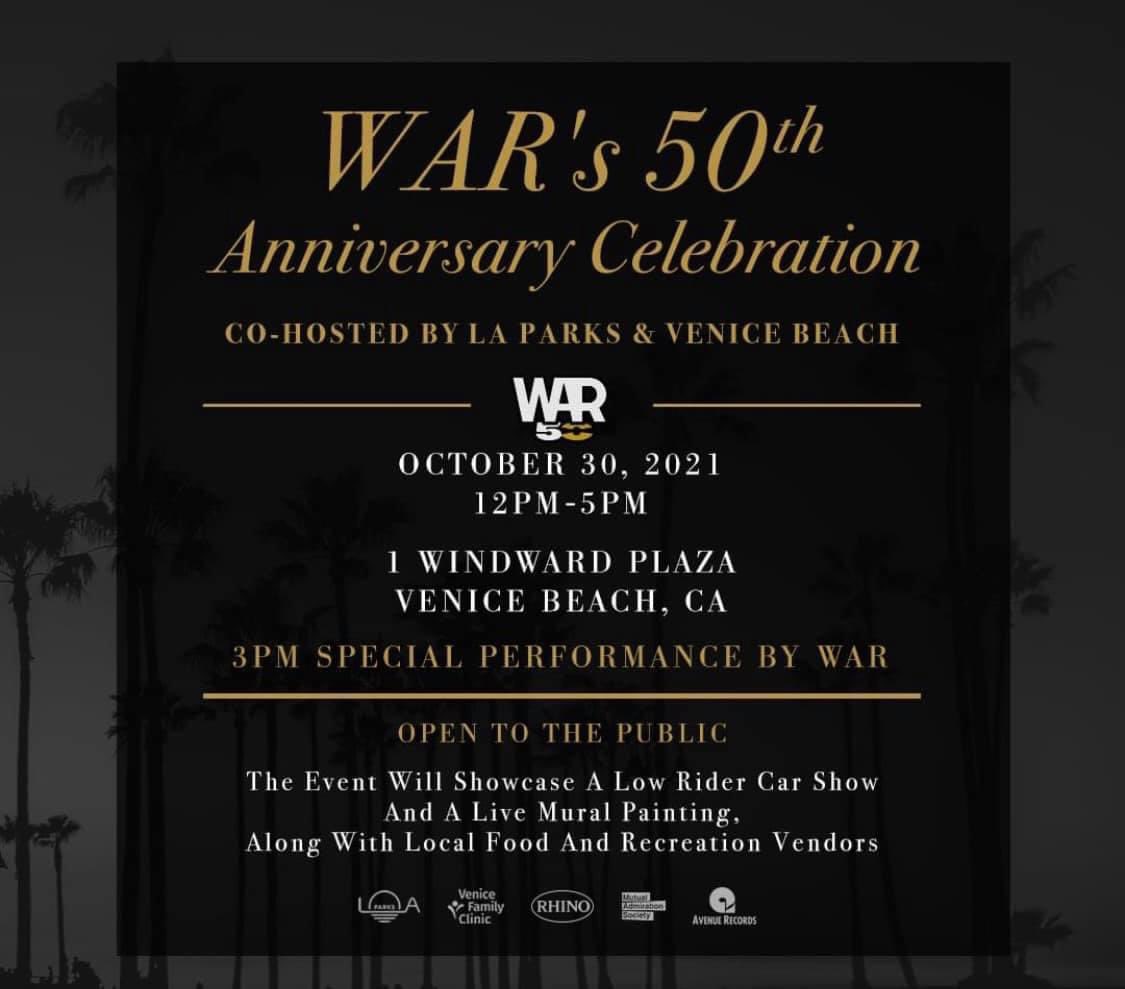 WAR
burst onto the scene 50 years ago, capturing the heart and soul of America's streets with its righteous, multi-cultural sound on hits like "
Why Can't We Be Friends?
" "
Low Rider
" and "
The Cisco Kid
."
"Our music came from the street and the challenges that everyday people struggle with, says founding member Lonnie Jordan. "We expressed the pleasures and pains of those experiences which we are still confronting all these years later."
In celebration of their 50th Anniversary, the legendary
WAR
has partnered with the City of LA Parks and Venice Beach
to try make an attempt
to introduce a new initiative to re-establish Venice Beach as a safe and family-friendly recreation area for everyone. The community event is presented by Rhino Entertainment and produced locally by Munson Industries and will showcase a performance from WAR, a low rider car show featuring the ENVYUZ Minis and Dogtown Devils car clubs, and a special WAR inspired mural by the STP crew will be completed live. There will also be exclusive event merch and food vendors. The celebration is accessible to the public and will be located at Windward Plaza in Venice Beach starting at 12 p.m. PT and will conclude at 5:30 p.m. PT.
The community event will showcase local Venice Beach vendors, including food by The Waterfront and The Erwin Hotel's Venice Way Pizza. Twenty percent of the day's sales will benefit Venice Family Clinic, a leader in providing comprehensive, high-quality health care to people in need.
The itinerary for WAR's 50th Anniversary Live Performance:
12:00 PM - Kickoff with nondenominational prayer
1:30 PM - Low Rider Car Show
3:00 PM -
WAR
Performance
5:30 PM - Event ends
LOCATION:
Windward Plaza - 1 Windward Ave, Venice, CA 90291