4:09 PM - 0 Comments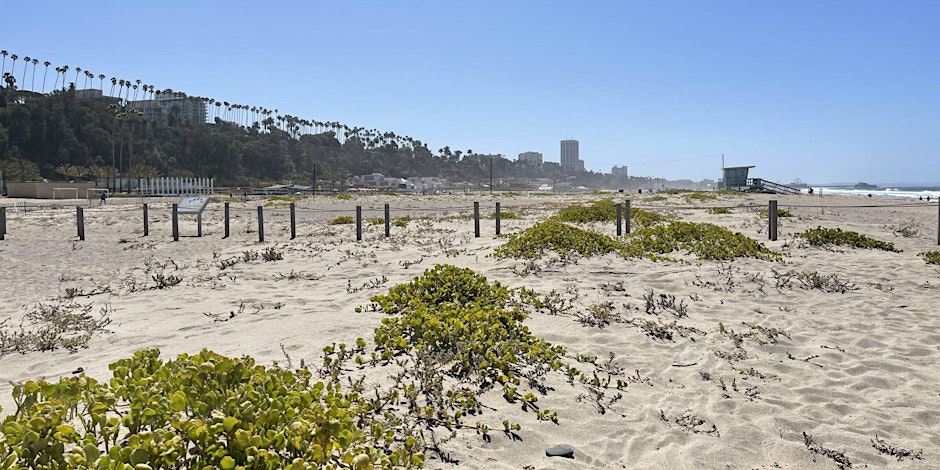 Plans to restore more coastal habitat will be featured in an online presentation on November 16th.
Over the last several years, the City of Santa Monica has been working with the Bay Foundation on the Santa Monica Beach Dune Restoration Pilot to successfully transform and restore a 3-acre section of beach north of the Pier into a native coastal strand habitat. By restricting daily beach grooming activities like cleaning and leveling sand and sowing native plant seeds, beach dunes have formed and grown into a resilient native habitat, encouraging the return of native shorebirds like the western snowy plover.
With the success of the pilot project, the City is preparing to restore an additional 5 acres in a second phase of the Beach Dune Restoration Pilot to expand the existing habitat. As the City and the Bay Foundation prepare for the expansion later this winter, local organization Climate Action Santa Monica will host a presentation online for the public on Thursday, Nov. 16 at 12 p.m. This presentation will give an overview of the plans, and ask for feedback, enhancing the community input already received from residents, businesses, non-profits and other local organizations over the past few months.
On Thursday, November 16th, SAMOCAN will be welcoming Nico Predock, from the City of Santa Monica, and Alexandra Tower, from the Bay Foundation, to speak about Santa Monica's Second Dune Restoration Project to the Beach with a brief presentation by CASM's Climate Jobs Corp member Jasmine Contreras.
For more info and to reserve a spot,
Click Here
Find out about more upcoming local events,
Click Here
for the Event Calendar.