9:45 PM - 0 Comments
Sony TV is developing TV adaptation of the 2005 skateboarding film "
Lords of Dogtown
" , which was an adaption of the 2001 documentary "
Dogtown and Z-Boys
".
Described as a one-hour drama ensemble-drama, the Lords of Dogtown TV show is "set in the 1970's skateboarding scene in southern California and centers on a hell-raising teenage girl growing up in the foster care system. She falls in with a crowd of skaters who idolize the famed Zephyr Skateboard Team."
Going off that info from the press release, seems the story will not actually be about Zephyr skaters, it will be about some random skaters.
This show is being developed and written by some lady from Georgia, named Kat Candler, because who else would Hollywood get to write a TV show about California and skateboarding than a non-skater from Georgia who says she is a Texan.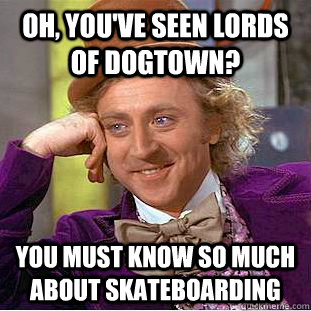 Catherine Hardwicke, who directed the original movie in 2005, will slap her name on as an executive producer for the project, and the guy who made the
The Shield
will also be an executive producer. As of right now, seems none of the real Dogtown or Z-boys are invovle with this. And no one has been cast for any parts yet.
Seven Adams, son of Jay Adams, appears pissed off about this and is calling for a boycott of this show. Check out this screenshot from his most recent Instagram Story:
Seven's not having it.
The show is going to be for Amazon's free streaming service, IMDb TV. It's still in the early development stage, so there's not even a release date yet.