8:47 PM - 0 Comments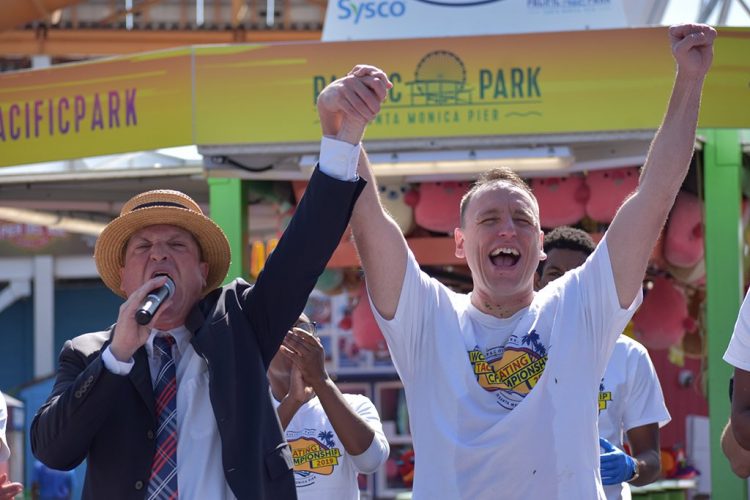 Wonderful® Pistachios
and Major League Eating Bring Top-Ranked Eaters to Pacific Park on the Santa Monica Pier to Get Crackin' on World Pistachio Day, February 26, 2023
Major League Eating and
Wonderful® Pistachios
have teamed up to host the "Wonderful Pistachios Get Crackin' Eating Championship" on World Pistachio Day, February 26, 2023. World Champion Competitive Eater Joey Chestnut and other top-ranked Major League Eating athletes will vie for a world record for pistachio-eating at the inaugural event taking place at 10:00 A.M. at Pacific Park on the Santa Monica Pier in Santa Monica, Calif.
Wonderful® Pistachios
, America's #1 Nut®, will Get Crackin' like never before. Competitors will have eight minutes to crack open and eat as many
Wonderful® Pistachios
as possible in a battle for the championship title and $10,000 in cash prizes. The pistachio-eating championship, featuring shell cracking, is unlike any Major League Eating contest ever held.
Chestnut will face fierce competition from other top-ranked eaters in attendance, including:
● Number-two-ranked competitive eater, Geoffrey Esper from Oxford, Mass.
● Number-three-ranked competitive eater, Miki Sudo from Tampa, Fla.
● Number-four-ranked competitive eater, Nick Wehry from Tampa, Fla.
● Number-seven-ranked competitive eater, Gideon Oji from Morrow, Ga.
"This contest will reveal who is a tougher nut: Joey Chestnut or a Wonderful Pistachio," said Sam Barclay, emcee at Major League Eating. "In order to make World Pistachio Day history, Chestnut must perfect his pistachio-crackin' technique while also outperforming his fellow competitors with his eating skills."
"What better way to celebrate our favorite holiday, World Pistachio Day, than to crown the world champion of pistachio-eating amongst the iconic backdrop of the Santa Monica Pier?" said Diana Salsa, associate vice president of marketing, Wonderful Pistachios. "If Joey Chestnut wins, maybe he'll even consider changing his name to Joey Pistachio!"
In addition to viewing the competition, spectators and attendees can enjoy complimentary giveaway items including branded merchandise, and, of course, bags of
Wonderful® Pistachios
.
Sunday, February 26
10 AM
Pacific Park on the Santa Monica Pier
For more info,
Click Here.