5:07 PM - 0 Comments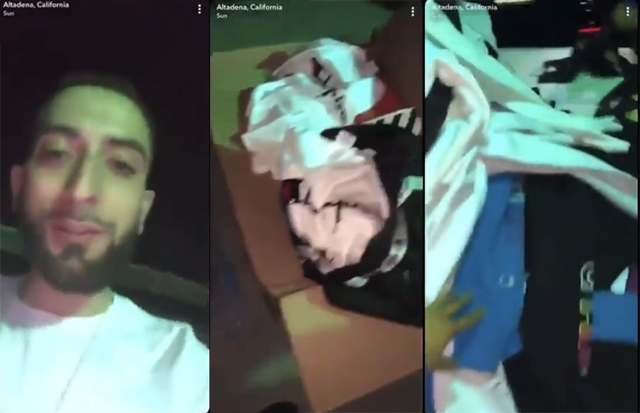 Image via @santamonicaproblems
The internet is at work busting the garbage that came to loot Santa Monica businesses.
This idiot posted a video bragging about all the stuff he stole, it went viral, the internet tracked him down and posted all his info online.
And LAPD actually took note of it.
@santamonicaproblems
was the first to share this scumbag's video:
One of the looters bragging on social media about all the merch he stole. Twitter: do you work. Let's find this guy & expose him! #SantaMonica #SantaMonicaLooting #FIRECHIEFRENAUD @Lane_Dilg @GleamDavis @TedWinterer @santamonicacity @SaMoMayor @KevinMcKeownSM pic.twitter.com/UXclwTP4eE

— Santa Monica Problems (@SantaMonicaProb) June 2, 2020
The internet then went to work, and soon enough, all his info was posted:
@santamonicaproblems
, along with a FOX 11 News reporter, of all people, then called out the Santa Monica Police to step up and do something about. Good to see not all big station news reporters are inconsideration clowns. Big bravo to you,
Bill Melugin
!
All his info was found, including his address. Even what part of his house all the merchandise he stole was in.
And since
Bill Melugin
has a blue check mark on twitter, it caught the attention of the LAPD:
We see the video, as will @SantaMonicaPD.

— LAPD HQ (@LAPDHQ) June 3, 2020
And that forced SMPD to step up:
This video has been shared with SMPD detectives for follow up.

— Santa Monica Police (@SantaMonicaPD) June 3, 2020
Unfortunately, SMPD doesn't know how to use twitter.
Hello Bill, We did not receive your DM. Please contact us at community.affairs@smgov.net. Thank you for your assistance.

— Santa Monica Police (@SantaMonicaPD) June 3, 2020
We will post an update if we hear of anything happens, probably will have to wait and see if SMPD figures out how to use their email account first.
For more of our coverage of the protests and looting in our beach communities,
CLICK HERE